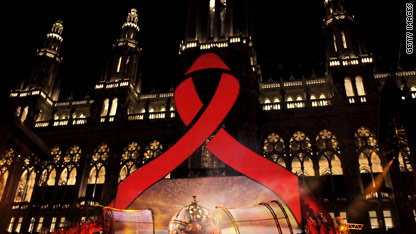 The global economic downturn is affecting how much governments around the world are giving to fight the the spread and early treatment of HIV-AIDS and will be a key concern at the 18th International AIDS Conference this week in Vienna.
The conference  brings together the HIV-AIDS research and advocacy communities every two years to draw attention to the disease, which makes headlines less often than 10 or 20 years ago but today affects more than 33 million people worldwide.
Concerns about donor nations maintaining current funding levels - or more likely reducing their donations  –were voiced before the meeting began Sunday.
Doctors Without Borders told reporters Thursday that a reduction of funding will undo a lot of progress.  The organization released a report called "The Ten Consequences of AIDS Treatment Delayed, Deferred, or Denied."
An estimated 5.2 million people around the world  were receiving HIV treatment at the end of 2009, more than 1 million more than the previous year, the World Health Organization said Sunday. "Starting treatment earlier gives us an opportunity to enable people living with HIV to stay healthier and live longer," said Dr Gottfried Hirnschall, WHO director of HIV/AIDS.
Bill Gates will address the conference on Monday. Reducing the burden of HIV is one of the top global health focuses of  his foundation. Gates, who also raised concerns about donor retreat in these lean economic times, said his speech would stress the need to "get more out of  the dollar of funding that is available."
He also plans to note successes that investment in HIV research have yielded. "On Tuesday we're expecting the results of a fairly key trial, the CAPRISA trial [a study testing the effectiveness of using an antiviral microbicide to prevent the spread of HIV in women]," he said. "That should give us a sense of how important that tool will be."
Since the first stories about an unknown virus surfaced nearly 30 years ago, 600,000 Americans have died from HIV-AIDS. Today,  one American is infected every 9.5  minutes,  according to government statistics cited in President Obama's national HIV/AIDS strategy released Tuesday.
The Centers for Disease Control and Prevention estimates that 1 million people in the United States are living with HIV and that one in five of those is unaware of their infection.
According to the World Health Organization , 2.7 million people were newly infected with HIV in 2008 and 2 million people, including 280,000 children, died of AIDS that year.