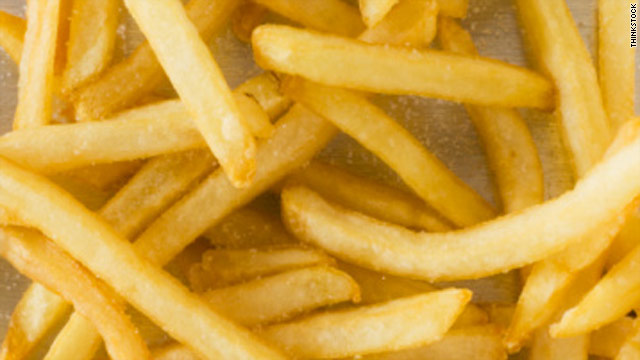 The oils used to cook those french fries, chicken nuggets, onion rings and other deep-fried goodies have become less bad for you  in recent years, according to research from the University of Minnesota School of Public Health.
Researchers analyzed nutritional data from McDonald's, Burger King, Wendy's, Jack in the Box and Dairy Queen's french fries and found that three of the restaurant chains had decreased trans fat and saturated fats in their cooking oil.
McDonald's, Burger King, and Wendy's significantly decreased the fatty acid composition of french fries between during 1997 to 2008.  The three chains dropped trans fats in 2005, according to the data. Meanwhile, Jack in the Box and Dairy Queen didn't show decreases in trans fats during the time period studied, but their current nutritional information indicate lower trans and saturated fatty acid composition since 2008.
Researchers obtained the nutritional data from the fast food restaurants every year from 1997 to 2008 to look for general trends.  They did not analyze samples of the fries for their fat content; instead they relied on the information supplied by the fast food chains.
"The stakes are high for them if they're not being truthful," said lead author, Lisa Harnack, professor and director of the University of Minnesota Nutrition Coordinating Center.
Researchers also looked at saturated fats, because "they could've gotten rid of the trans fat and switched to saturated fats, which are animal oils," she said. "We wanted to make sure they hadn't done it that way."
Trans fats (which have been banned in New York City and reduced in California) raise cholesterol levels, which increase risk of heart disease.
"What's surprising is to see is some of the restaurants lowered the trans fats and saturated fats somewhat, so they did it right," she said.
Trans fat is double trouble for your heart health
"This doesn't give people a license to run out to fast foods and eat whatever they want at fast food restaurants, because of the high calorie items in the menu and high sodium foods," Harnack said.  "So people need to choose wisely at fast food restaurants."
The study had no affiliation to the restaurant industry.