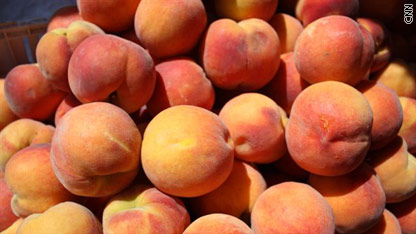 The Alliance for Food and Farming,  a non-profit group of farmers and producers, released a report Thursday challenging the Environmental Working Group's  list of fruits and vegetables you might want to stay away from. The list was released by EWG more than a decade ago in a report titled "Shopper's Guide To Pesticides In Produce." It's called the '"Dirty Dozen of Produce "and details fruit and vegetables that are healthy versus those the group alleges are packed with pesticides.
The Dirty Dozen, starting with the most contaminated, is celery, peaches, strawberries, apples, blueberries, nectarines, bell peppers, spinach, cherries, kale/collard greens, potatoes and imported grapes. And according to EWG, if you're eating five fruits and vegetables daily from the Dirty Dozen list you're consuming on average 10 pesticides a day.
But a panel of experts who reviewed the Dirty Dozen for AFF says current science linking pesticide residues found on fruits and veggies to poor health is simply not there. A panel of five scientists with expertise in nutrition, toxicology and risk assessment say the list is misleading consumers about the dangers. They say detecting residue doesn't mean the produce is unsafe.
"We have a real problem in the United States. People are not eating enough fruits and vegetables," said Dr. Carl Keen, professor of nutrition and internal medicine at the University of California, Davis and a member of the expert panel that reviewed the Dirty Dozen report. "We are supposed to have five to seven servings of fruits and vegetables a day, and right now most people are only eating a couple. The Dirty Dozen list is damaging because it can confuse the public into thinking that fruits or vegetables represent a risk to them. This is just simply not the case."
So AFF is launching a new website to give consumers a different perspective and stress the need to eat more fresh fruits and veggies.
"Like the organization behind the Dirty Dozen report, our farmer-members hope to utilize the power of public information to protect public health. This is why we have developed this website – to provide information that assures consumers it's not only OK to eat their favorite fruits and vegetables, but that it's the best thing you can do for your health and the health of your children," said Marilyn Dolan, executive director of the Alliance for Food and Farming. "What we are telling consumers really isn't anything different from what your mom and grandmother have been saying for years – eat your fruits and vegetables."
But EWG questioned whether the new report was just about health.. "It's hard to avoid the conclusion that the chemical farming coalition members (the Alliance for Food and Farming) are less concerned about EWG's "dirty dozen" list, or the health and girth of the American people, than they are about losing so much market share in recent years to organic fruits and vegetables," said EWG President Ken Cook. "If chemical agriculture and the Alliance for Food and Farming want to promote healthier diets, it should stop attacking critics and focus on growing vegetables and fruits that are chemical-free – and also tasty."