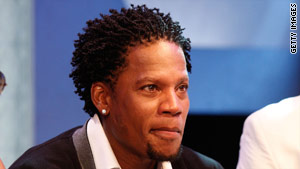 A gay rights group accuses comedian D.L. Hughley and "The View" co-host Sherri Shepherd of perpetuating "dangerous myths" about African American gay and bisexual men.
In a June 22 episode, Hughley and the hosts of the daytime ABC show were discussing an FDA rule that bans gay men from donating blood because of HIV. During the discussion, Hughley said, "When you look at the prevalence of HIV in the African-American community, it's primarily young women who are getting it from men who are on the down low."
Shepherd described that the "down low is black men who've been going out. They are having sex with men and they're not telling their girlfriends or their wives that they're gay..." and added that it's "very prevalent." Watch the video here
The Gay & Lesbian Alliance Against Defamation, the Black AIDS Institute and the National Black Justice Coalition said the two were "blaming African American gay and bisexual men for increased HIV rates among straight African American women."  They published a full page advertisement in Variety magazine this week urging ABC and "The View" to make an on-air correction.  The groups commended "The View" for tackling tough issues, but said it's important to provide accurate information.
ABC responded with this statement to CNN: " On June 22, during a discussion about blood donation and the transmission of HIV/AIDS, a guest moderator on the show expressed his interpretation of data about one way the virus can be transmitted.  The topic of HIV/AIDS has been raised many times over the show's 13 years, with many voices and opinions contributing to a conversation that we expect to continue as long as The View is on the air."
The down low has been a widely reported phenomenon in the media and remains a controversial issue.
The Centers for Disease Control and Prevention reports that the most common methods of transmission for black women living with HIV/AIDS is high-risk heterosexual contact and injection drug use.  The agency states: "The phenomenon of men on the down low has gained much attention in recent years; however, there are no data to confirm or refute publicized accounts of HIV risk behavior associated with these men."
While African Americans represent about 12 percent of the U.S. population, they make up nearly half of the 1.1 million HIV/AIDS cases.