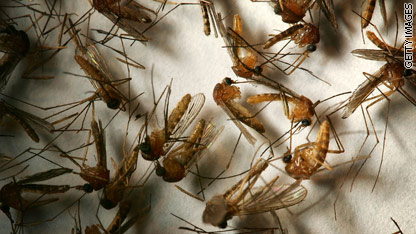 A study released Tuesday by the Centers for Disease Control and the Florida Department of Health finds dengue virus is showing up in the Florida Keys.  According to the report,  approximately 5 percent of Key West residents, or about 1,000 people, were exposed to it in 2009.  So far this year, there have been 12 confirmed cases of dengue in the Key West area.  The last time there was a dengue outbreak in Florida was 1934.
""These people had not traveled outside of Florida, so we need to determine if these cases are an isolated occurrence or if dengue has once again become endemic in the continental United States," said Harold Margolis, chief of the dengue branch of CDC in a press release.  "We are concerned that if dengue gains a foothold in Key West, it will travel to other Southern cities ... like Miami."

Dengue is the most common virus transmitted by mosquitoes in the world.  It causes up to 100 million infections and kills 25,000 people every year.  Dengue is found in tropical and sub-tropical climates worldwide, mostly in urban and semi-urban areas, according to the World Health Organization.
Symptoms include high fever, severe headache, severe pain behind the eyes, joint pain, muscle and bone pain.  There is no vaccine to prevent dengue, but early detection and treatment can reduce the risk of severe illness. Locally acquired dengue outbreaks in the United States are rare.  There have been a few confirmed cases along the Texas-Mexico border in recent years.