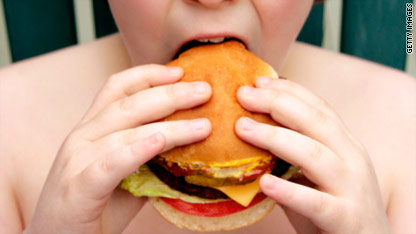 Overweight and obese children are at risk for getting even more adult illnesses, researchers warn.
The Centers for Disease Control and Prevention estimates that 17 percent of children and teens ages 2-19 are obese in the United States. Previous studies have linked childhood obesity to high blood pressure and diabetes. Now a new study says overweight and obese kids face another illness usually seen in adults: Gastro-esophageal reflux disease or GERD.
"Being overweight or obese as a child is associated with some very serious medical conditions," says study author Amy Porter. "These adult problems are now being mirrored in the child population."
Researchers analyzed data from 690,000 children enrolled in the Kaiser Permanente health plan in Southern California. They found moderately obese children and teens were 30 percent more likely to have GERD.  Extremely obese kids and teens were 40 percent more likely to have GERD than those at a normal weight.
GERD is a common illness that affects up to 15 percent of people. It causes inflammation in the esophagus, acid indigestion, or heartburn and can cause a person to be very uncomfortable and disrupt daily life. The link between obesity and GERD has been known for adults, but doctors didn't know whether children were suffering from this too. "The problem with that is that the longer people have reflux the more risk they have of developing esphogeaal cancer and that particular cancer is one that is on the rise," said the Kaiser permanente pediatrician.
Parents need to think about the medical importance of these study results, Porter says. "If you start having reflux at 6, then at 26, you've had it for 20 years. That's a lot of strain on your esophagus." She says she sees a lot of reflux in babies who are chubby and ones that are skinny; that's normal, but "as kids get older you see reflux coming back ...especially in the heavy kids....pretty much 6 and up is where we were seeing this upswing."
Jennifer Shu, a pediatrician and spokesperson for the American Academy of Pediatrics, says the risk of GERD is just another reason that overweight children need help losing weight. "Controlling their weight may help them get rid of those symptoms,"  Shu says. If children have GERD early in life, they may be treated with medication for a longer time. "One concern for kids is GERD medicine can affect the way the bone is formed," Shu notes, "so later on in life they may have weak bones."
So what should you do if your child is overweight? Here are a few tips.
Set a family goal to get healthy, by having everyone invested. Parents can model the behavior they would like to see in their children. Encourage the family to gather for meals with no television. Eat more fruit and veggies and drink less soda. Add physical activity into daily life and encourage less television, video games, and computer time.
The CDC suggests parents check their children's weight using this  calculator. Moms and dads are also encouraged to talk to their pediatrician about any health concerns.
The study is published online in the International Journal of Pediatric Obesity.