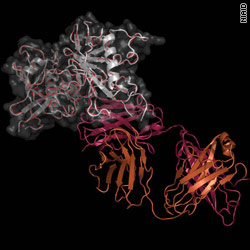 After years of disappointment, researchers have finally found a potential basis for an HIV vaccine.  Scientists at the National Institute of Allergy and Infectious Diseases  say they have discovered three human antibodies that neutralize more than 90 percent of the current circulating HIV-1 strains.
"This is significant because we've now found antibodies that are good templates for HIV vaccine development," explains Peter Kwong, chief of structural biology for the institute, and co-author of the study published Thursday in the journal Science. "You can potentially inactivate the virus," he says.
Although previous antibodies were promising, Kwong says, they often posed structural challenges that made them more difficult in terms of vaccine production. The researchers were able to narrow the data to three specific antibodies that are able to bind to a "site of vulnerability" on the HIV-1 strain, and it also helps that these antibodies appear in about 10 percent of all people currently infected with HIV.
"With this information we know the human immune system can make the antibodies, and this suggests the capability of the human body to make them in mass."
Dr. Anthony Fauci, who heads the NIAID, tells CNN that it's really rare that someone would get a good immune response against the virus that causes AIDS.  Researchers now have found one individual who had such an immune response.  "Now that we have those antibodies, we can use them to precisely identify the virus," says Fauci. He adds this is a new concept and "the potential for a vaccine is here."
HIV/AIDS is the world's leading infectious killer, ccording to the World Health Organization. The disease accounted for an estimated 2 million deaths in 2008, and more than 33 million people are living with the disease worldwide.
The researchers say the findings put them one step closer to their goal, and among their next steps are plans to make sure other people – not just those infected with HIV – can create these types of antibodies, and figure out how to derive the right inputs to be able to potentially mass produce more "broadly-neutralizing" antibodies to block nearly all HIV strains in the future.