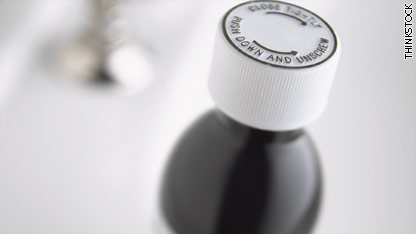 There's a trend among kids, dubbed "Robo tripping," and it's not the latest dance. In fact, "Robo tripping" is one of several colloquialisms used to describe getting high from - of all things - cough medicine.  (Get it? "Robo" or Robitussin.)
The high comes from ingesting large doses of dextromethorphan, found in over-the-counter cough suppressants such as syrups and lozenges.
"I was looking for something that was easy to find, easy to do...even though I know...that this is not good, that this is wrong," said Shannon, whose story about abusing dextromethorphan as a teenager appears on the Partnership for a Drug-Free America website.
It is that ease that may be the biggest problem.
"These drugs are very often sitting in the medicine cabinet at home," said Dr. Michael Entrup, an anesthesiologist at Rhode Island Hospital. "What parent would think, 'My kid is abusing cough syrup'?"
Parents seem to be aware of other, more obvious drugs and their  potential risks to children - heroin, cocaine, alcohol and marijuana, for example.  Experts say that many are in the dark about the dangers of "Robo tripping."
"I know of cases where kids who were previously healthy come into the emergency room [after overdosing] with wide blood pressure swings, with disturbances in heart rhythm...problems with motor function," said Entrup, director of the Massachusetts Society of Anesthesiologists. "I have not seen anyone die, but I know of patients who have come close."
It is difficult to imagine near-death at the hands of a cough suppressant, but according to experts, it can happen. The danger comes when dextromethorphan-containing medications are taken with other stimulants such as caffeinated beverages, energy drinks, even prescription drugs to treat ADHD.
"It's playing with fire," said Entrup. "The ingredients in prescribed dosages don't usually cause problems, but when taken in higher dosages, and with other drugs...it could be potentially lethal."
Most often users report hallucinating, feeling dizzy or nauseated, vomiting, confusion, rapid heart beat, even numbness in the extremities.
According to a 2006 Substance Abuse and Mental Health Services Administration survey more than 3 million people age 12 to 25 had used cough medications to get high. Among patients rushed to the emergency room for non-medical use of dextromethorphan, about half (48 percent) were aged 12 to 20, according to SAMHSA.
"I would get nauseous to the point where I couldn't stand up," said Shannon. "I actually would start foaming. It's so gross to say but, when I would be getting sick I was throwing up foam...It was horrible."
And then there is what drug abuse by a teen or pre-teen suggests.
"The fact that someone is looking to abuse a drug, puts them in a category where they're more likely to abuse another drug," said Dr. Daniel Frattarelli, chair of the Committee on Drugs for the American Academy of Pediatrics. "It's not safe just because it's over the counter."
The American Society of Anesthesiologists offers tips for recognizing dextromethorphan abuse: an unusual medicinal smell on your child's breath; empty or missing cough medicine bottles; a sudden change in your child's physical appearance, attitude and/or sleeping habits; and visits by your child to pro-drug websites.
Even with the absence of the more glaring signs, experts recommend parents have a conversation about the potential dangers of "Robo tripping" with their kids.