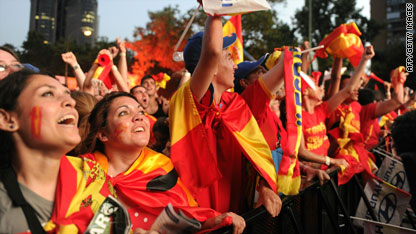 As soccer fans around the world brace themselves for the final battle between the Netherlands and Spain in the 2010 World Cup, they should be mindful that getting too excited or stressed out over a team can carry health risks.
A 2008 study in the New England Journal of Medicine found that watching a stressful soccer match during the 2006 World Cup more than doubled the risk of a cardiovascular event. Researchers looked at cases of patients in the area of Munich, Germany, whom emergency physicians had assessed during the World Cup.
Dr. Jose Luis López Sendón, chief of Cardiology Services at Hospital Universitario La Paz in Madrid, Spain, said in an e-mail that there has not been in an appreciable rise in cardiovascular problems at his hospital that are attributable to the World Cup - at least, not as of Wednesday afternoon.
But it's true that certain cardiovascular problems are accompanied by a surge of adrenaline, the hormone that gets released when you're pumped up about something. In extreme cases, a burst of  adrenaline can trigger arrhythmia, coronary spasms, and heart attacks, and there are factors that increase this risk, such as heart disease, hypertension, and use of tobacco and alcohol.
López Sendón says a couple years ago, a man about the age of 60 had a heart attack accompanied by cardiac arrest during the final soccer game in the national league in the Real Madrid stadium. He was obese, had hypertension, high cholesterol, and was smoking a cigar (which, in Spain, is "a symbol of satisfaction" at the soccer games as well as bull fights, he says). This man almost died, but recovered from the cardiac arrest at the football field and at the hospital his arteries were treated successfully.
Preventing cardiac events during a soccer match begins before the game and doesn't end afterward. Do regular exercise, eat a healthy diet (a Mediterranean one, in his view), and don't smoke. But during the game the only effective measures in practice are the teams of professionals who can respond quickly to people who are suffering a cardiac problem. It's important that there always be semi-automatic defibrillators distributed strategically, and teams of medics and paramedics with a high level of training.
The doctor's other advice for a big game: Don't eat a hamburger during the match, don't insult the referee if something happens that you don't like, don't scream, don't stand up. You can cheer your team with a little applause, or say "what a shame" if the outcome isn't in your favor, and recognize that it's difficult for the referee to make quick decisions.
"There is always one who wins and one who loses," he said. "Those are the two sides of life."