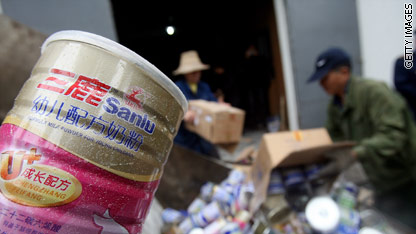 Health officials from around the world have agreed to a maximum safe amount of melamine for human and animal food.
Melamine is used to make a variety of products including plastic dishes and laminates and linings of food cans.
Representatives from 130 countries agreed to the following maximum levels:  1 milligram of melamine per kilogram in powdered infant formula, (which equals 0.000035 ounces per 2.2 pounds) and 2.5 milligrams of melamine per kilogram in other foods and animal feed (0.000088 ounces per 2.2 pounds).

Two years ago, Chinese manufacturers added melamine to powdered infant formula as a cheap filler.  "It looks like protein but it is not protein and it's actually dangerous when you have it in high concentrations,"  Jørgen Schlundt, the WHO Director of Food Safety and Zoonoses department explained on Tuesday.  Zoonoses are diseases communicable from animals to humans.
More than 300,000 children got sick and at least six children died from contaminated baby formula, according to the World Health Organization.
Since then, the United Nation's food safety body called Codex Alimentarius Commission has been working on setting global standards for melamine levels in food.
Dr. Angelika Tritscher from the WHO's Food Safety and Zoonoses department says this is "probably the quickest [safety] standard established in codex history."
Tritscher says  the purpose of these standards is to make sure foods with unavoidable trace amounts of melamine can still be marketed.  But she tells CNN, "to cheat the consumer by adding melamine is totally unacceptable.  By no means is there an indication to tolerate any adulteration or illegal addition of melamine to any food or feed."
One possible unavoidable way to get trace amounts of melamine into food is from using an approved pesticide called cyromazine, which can break down into melamine.
Another way melamine can accidentally get into food is when it comes in contact with hard plastic dishes or melamine containing tabletops, Tritscher explains.  She say that very small amounts of melamine can be released.  But adds that these low levels of melamine in food are "definitely not a health concern."
Last November, China executed two people for their role in the 2008 tainted baby formula scandal.  19 people were sentenced to prison.
Still, melamine tainted infant formula was found again earlier this year.  Chinese officials reportedly seized 72 tons of melamine-laced milk powder in February.
According to the WHO, these new rules for melamine concentrations are not legally binding, but countries can use them to deny the importation of food products containing too much melamine.