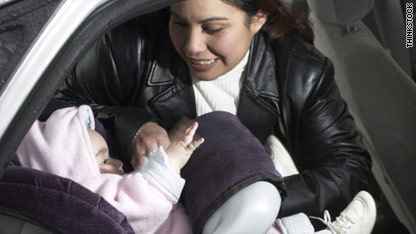 As temperatures continue climbing in the Northeast, one deadly hazard to be aware of is leaving a child in a car.
At the end of June, 20 children had died in the United States of heat stroke in 2010, said Jan Null, a meteorologist at San Francisco State University.
Null keeps track of child hyperthermia deaths in motor vehicles on this website. It gets updated every time there is a report of a child dying from heat stroke in a car, he said. Hyperthermia is another name for heatstroke.
According to Null's data, 20 is the highest number of fatalities that has been seen this early in the year since at least 1998, the first year deaths are tracked on Null's website. Since 1998 there have been a total of 465 recorded deaths of children dying of heat stroke in vehicles.
"The idea is to make people aware that this is an epidemic," Null said.
A child can die of heatstroke in a car even if the weather outside isn't that warm, Null said. In fact, within an hour, the temperature in an unmoving car can rise 40 degrees above what it is outside. In other words, a child can be trapped in a 115-degree car on a 75-degree day, resulting in death for an infant or small child.
Read the stories of parents who've experienced this tragedy and reasons why it can happen.