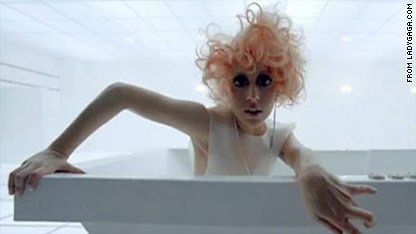 Lady Gaga peers at the camera through exaggerated, gargantuan eyes on her Bad Romance video.
Seen here on her music video, her buggy eyes have reportedly set off a trend among teenagers who seek to stretch their eyes to cartoonish  sizes.
These contacts, called circle lens, cover more than the pupils to include the whites of the eyes, making them appear bigger.  They're also illegal in the United States.  But that's not stopping the Internet trade.
Lady Gaga did not wear contacts for her appearance on her music video.  The eye-popping effect was generated by a computer, according to the New York Times.
Optometrists aren't quite pleased with the fad in decorative lenses, something that comes up around the Halloween season too.
The American Optometric Association warns that "consumers who purchase lenses without a prescription or without consultation from an eye doctor put themselves at risk of serious bacterial infection, or even significant damage to the eye's ability to function, with the potential for irreversible sight loss."
Here are other risks associated with the improper use of decorative contact lenses: conjunctivitis (swelling or infection of the membrane lining the eyelids), swelling, allergic reaction and corneal abrasion due to poor lens fit, reduction of sight, contrast sensitivity and other general eye and vision impairments.