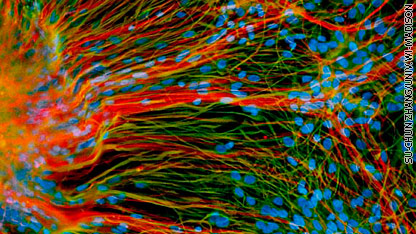 Only one gene controls brain development in humans, according to new research from the University of Wisconsin-Madison.
Scientists used embryonic stems cells to identify one gene – called Pax6 -that leads to the development of brain and spinal cord cells.  Dr. Su-Chun Zhang, a neuroscientist and professor of anatomy at the university, says his team used a stem cell model because it couldn't possibly study this on fetal brains.
This Pax6 gene is well known to researchers, but it is usually found later in the development of animals.  How it works in humans is less known, according to Zhang.  In mice for example, this gene is known to help in the development of eyes and some nerve cells.
Zhang says when embryonic stems cells developed into the part of the embryo that leads to the development of the brain, "We observed that the Pax6 is universally expressed in human brain development, but not in mouse or zebrafish or other species."
Researchers say they found the Pax6 controls the earliest steps of  human brain development, including the the production of two basic building blocks of the central nervous system: neurons (seen in red in image above) and glial cells (seen in green). They also found Pax6 later in the development of the largest part of the brain, called the cerebrum, which controls language, reason, memory and higher mental functions, just to mention a few.
Zhang says discovering that the Pax6 gene alone is "sufficient and necessary for human brain development" was accidental.  But he believes this research may explain why humans are different from all other species.
Dr. John Gearhart, a stem cell expert and director of the University of Pennsylvania's Institute of Regenerative Medicine, says this study is important for those working on human embryonic stem cells and who are interested in early brain development.
The study was published last week in the journal Cell Stem Cell.