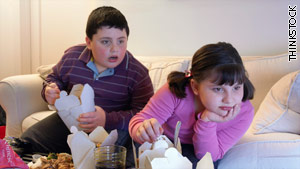 Children are seeing fewer television ads for sweets and beverages than they used to,  a new report in the online edition of the  Archives of Pediatrics and Adolescent Medicine suggests.  However, the study also suggests, children are being exposed to more TV ads for fast food.
Lisa Powell, a researcher at the Institute for Health and Research Policy at the University of Illinois at Chicago and her team looked at advertising targeted at children from 2003 to 2007.   On average, they found children between the ages of 2 and 11 are seeing  30 percent fewer television ads for fruit drinks and regular soft drinks.  Exposure to ads for sweets, such as candy and cookies, went down  35 percent.  However, exposure to ads for fast food went up 8 percent.  Powell says 2- to 5-year-olds now see more fast food ads than cereal ads.  "That suggests a lot of branding is going on.  They are starting marketing of brand loyalty at an earlier age," she says.
But Powell also says some positive steps are also being taken.  She credits the Council of Better Business Bureaus  Children's Food and Beverage Advertising Initiative for helping to change that.  The initiative's goal is in encourage food and beverage companies to focus advertising to children under 12 that encourages healthier dietary choices and healthy lifestyles.
That's a start, says Powell, considering 17 percent of American children and teens are obese, according the Centers for Disease Control and Prevention.  But she says parents also have an important role.  "If you can," says Powell, "replace TV time with reading or physical activity."