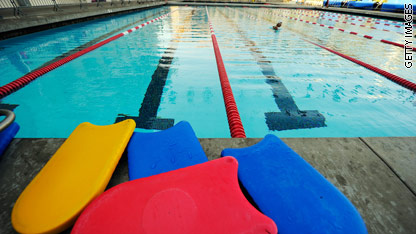 Cooking out, swimming, and watching fireworks is how many Americans will celebrate this July 4th holiday weekend. While celebrating outside by the water can be fun, it can also be dangerous for young children who don't know how to swim to be near water.
According to the National Drowning Prevention Alliance, drowning is the second leading cause of unintentional death among children ages 1 to 4 years old and children 10 to 14 years. Children 4 and under actually have the highest drowning death rate in the United States and the majority of child drownings occur in backyard pools & spas, according to Safe Kids USA. Just this week, former NFL quarterback Randall Cunningham's 2-year-old son drowned in his parents' pool spa, a spokeswoman for the Las Vegas, Nevada, Police Department told CNN Wednesday.
Tragic stories like Cunningham's are one reason the American Academy of Pediatrics (AAP) released new recommendations this summer suggesting swimming lessons for children between ages 1 and 4.  This marked a change in policy for the AAP as it worked to raise awareness of the hazards of water for young children.
According to Safe Kids USA, a toddler can drown in just one inch of water, because they have a difficult time keeping their top-heavy bodies balanced when sitting up and they often have a hard time getting back up after they fall.
A study published in the Archives of Pediatrics and Adolescent Medicine  suggests that formal swim lessons can reduce  the risk of drowning for 1 to 4 year olds by 88 percent. The AAP still does not recommend swimming lessons until the age of one, and it recommends consulting your child's pediatrician to make sure their motor and cognitive skills are ready for swim lessons.
However participating in swim lessons will not "drown-proof" a child, careful adult supervision also is an important part of keeping children safe in water.
Drowning is usually a silent event, without splashing or a call for help.  Here are a few of the safety tips offered by The National Drowning Prevention Alliance: Don't leave your kids unattended near water, even in a bathtub, and don't rely on water safety devices or swim classes alone. It's important to keep family and neighborhood pools locked and to put fences around them. Hot tubs should have appropriate and safe drain covers and vacuum releases. In addition, parents should learn infant and child CPR and teach their children about water safety.