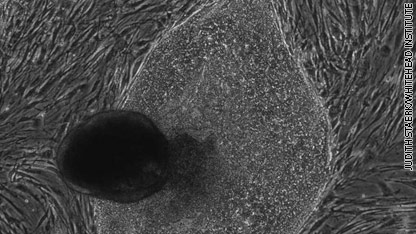 Researchers have successfully reprogrammed human blood cells into embryonic-like stem cells according to three news studies. Experts say this has the potential for changing the course of stem cell research.
Three years ago, researchers in Japan and the United States announced they had taken a simple skin cell – inserted four viruses, which reprogrammed the blood cells to an embryonic stem-cell like state and a source of embryonic-like stems cells. These cells are called induced pluripotent stem cells (IPS cells) and are believed to have the ability to turn into any cell in the body, just like embryonic stem cells, but without the controversy of destroying an embryo, which happens when embryonic stem cells are removed from the embryo.
This week, three groups of researchers report having generated IPS cells from blood. The studies were published Thursday in the journal Cell Stem Cell.
The benefit of using IPS cells  is that eventually, doctors could take a patient's skin cells and make IPS cells from it and any therapies made from these cells wouldn't be rejected because they have the same DNA as the patient. But first the patient has to undergo a skin biopsy for scientists to get the skin cell, which can be cumbersome, costly and sometimes cause some side effects.
However, drawing blood is much easier than taking a skin biopsy. Researchers in Japan used as little as 1 ml of blood (=0.03 ounces). Plus, researchers can take advantage of already drawn blood. Scientists from the Whitehead Institute for Biomedical Research in Cambridge, Massachusetts, used frozen blood. This opens up more research possibilities because scientists could use blood stored in tissue banks and study the diseases of people who may have moved away or passed on.
The goal of IPS cell research is to "transfer the disease into the test tube" says Dr. Rudolph Jaenisch, a founding member of the Whitehead Institute and stem expert. He says it wasn't easy making IPS cells from blood, but having the ability to do so now will allow researchers to have easy access to a widely available source for generating IPS cells. These IPS cells will have all the genetic alterations that have contributed to the illness of a patient. Jaenisch says researchers can now grow nerve cells or other cells that are affected by a disease like Parkinson's and study the progression of disease.
Dr. John Gearhart, who heads the University of Pennsylvania's Institute of Regenerative Medicine , says these three papers "are quite important to the IPS field."  He says being able to make IPS cells from blood will be much more practical for patients and researchers.
Dr. Shinya Yamanaka led one of the two teams that made the first human IPS cells from skin cells. He writes in an accompanying article for the journal, that the three studies "represent a huge and important progression in the field."