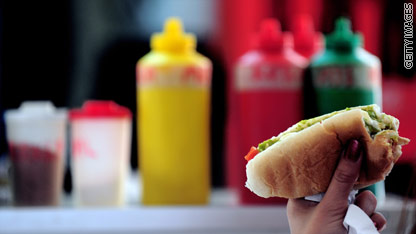 The Center for Science in the Public Interest (CSPI) says food dyes pose a number of risks to the American public and is calling on the Food and Drug Administration (FDA) to ban three of the most commonly used dyes: Red 40, Yellow 5 and Yellow 6.  A new CSPI report says those dyes contain known carcinogens and contaminants that unnecessarily increase the risks of cancer, hyperactivity in children and allergic reactions.
"These synthetic chemicals do absolutely nothing to improve the nutritional quality or safety of foods, but trigger behavior problems in children and, possibly, cancer in anybody," said CSPI executive director Michael Jacobson, co-author of the report. "The Food and Drug Administration should ban dyes, which would force industry to color foods with real food ingredients, not toxic petrochemicals."
The FDA has not read the report yet an agency spokesperson said. "We appreciate the report from CSPI and look forward to reviewing it. We take our commitment to protecting children seriously".
According to the report, tests done on lab animals found contaminants that raised health concerns about several of the nine dyes currently approved for market. The approved dyes are Blue 1 & 2, Citrus Red 2, Green 3, Orange B, Red 3 & 40 and Yellow 5 & 6. And every year, about 15 million pounds of these dyes wind up in our food, with alot of it ending up in things like candy, fruit drinks and cereals.
The report is based on the FDA's own studies, and studies done by Industry and turned over to the FDA. But a statement from the Grocery Manufacturers Association (GMA), who represents the industry says science shows food dyes are safe. "The safety of both artificial and natural colors has been affirmed through extensive review by the main global food safety bodies, including the US Food & Drug Administration and the European Food Safety Authority.  Both the FDA and the food and beverage industry continually monitor any new research or data in this area to determine if a change in current policy is warranted. It is important for consumers and policymakers to know that food dyes are widely studied and that the overwhelming majority of scientific evidence confirms the safety of artificial food colors."
The Food Standards Agency, an independent government agency in Great Britain, released research a few years ago that suggested a linked between hyperactivity in some children and certain food coloring.  Starting July 20th in the European Union, food containing some of these dyes will carry additional warning labels indicating possible adverse effects on "activity and attention in children."
CSPI went to Britain in 2008 to check out the differences in dye use first hand. It says it found more concern about food dyes and more government oversight. For example, CSPI says McDonald's Strawberry Sundaes get their color from fresh strawberries. The group says in the United States the color comes from Red dye 40. CSPI say in the UK, Fanta orange soda coloring comes from pumpkins and carrot extract. Here, it says the color comes from Red 40 and Yellow 6 dye.
Rand Carpenter, a spokesperson for Coca-Cola, who makes Fanta, says they stand by their products in the United States - and abroad. "Where colors are used in our products they have been reviewed for safety by numerous health authorities and agencies, are permitted in every country where we operate, and are considered safe."