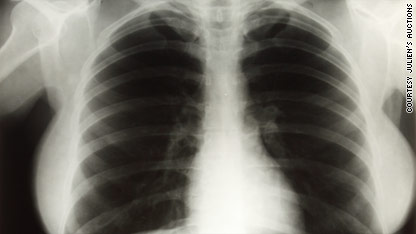 It's not as iconic as the photo of a Marilyn Monroe standing in a white dress over a sewer grate – but it fetched quite a price.
Adding to strange celebrity medical memorabilia, three X-rays of the actress were sold at a Las Vegas, Nevada, auction this weekend for $45,000.
Her chest X-ray was sold for $25,000. Her side view X-ray for $10,000 and another X-ray for $10,000. See results here.
The value of the chest X-ray taken two weeks after her divorce from baseball great Joe DiMaggio was originally estimated to be between $800 and $1,200. The X-rays were taken at Cedars of Lebanon Hospital from her doctor's visit in November 1954, according to Julien's Auctions.
Julien's Auctions also sold several pieces from Monroe's  final years. There was also a 50-year-old couch from the home office of Dr. Ralph Greenson, Monroe's psychiatrist, which sold for $2,625.
Collectors have paid for bizarre biological items used by celebrities such as a clump of Elvis' hair (sold for $15,000 at an auction) and a tissue Scarlett Johansson used to blow her nose (sold for $5,300 on eBay).