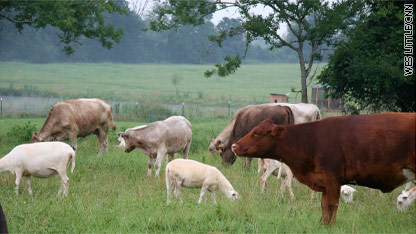 The U.S. Food and Drug Administration on Monday called for  more judicious use of antimicrobial drugs in the production of animals that end up on our dinner tables. The goal is preventing drug resistance both in animals and in humans.
Antimicrobial drugs have been widely used for more than 50 years, benefiting both human and animal health, according to the FDA. The drugs prevent diseases from developing in food animals, and from being passed on to humans. Over time, a serious public health threat has developed because many of the drugs have lost their effectiveness due to the the development of drug-resistant microbial strains.
The FDA makes recommendations for more judicious use of antimicrobial drugs in food-producing animals.  Officials suggest phasing in the following measures to fight antibiotic resistance:
*Limiting the use of antimicrobials in food producing animals only for assuring animal health. Unfortunately, many operations use antimicrobials to increase production, or to produce larger animals, which contributes to the misuse of the drugs and raises the possibility of antibiotic resistance.
*Limit antimicrobial drug use to food-producing animals that include veterinary oversight or consultation. Many of these drugs are administered to food-producing animals without any veterinary oversight.
In addition, the FDA stresses the need for the animal health communities and the public health communities to collaborate to protect public and animal health by developing strategies to avoid the misuse of these drugs while protecting animal and human health.
This document is a statement of the FDA's approach; it is not a regulation or a proposed regulation. The FDA will open a 60-day comment period on this issue.
After the 60 day period, the FDA will examine the comments and have workshops to determine  some type of next step  that will move to possible regulations on the agriculture industry in the future.
CNN Intern Graham Dubow contributed to this article.