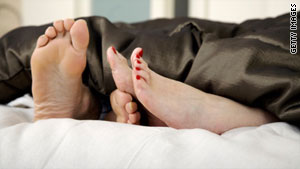 By Caitlin Hagan
CNN Medical Associate Producer
Sexually transmitted infections are probably not what most older Americans anticipate dealing with as they age. Yet they're becoming an unfortunate reality for some in the over-45 crowd. A study published in the British Medical Journal finds that older "swingers,"  - the term the researchers used - are at high risk for chlamydia and gonorrhea, two of the most common sexually transmitted infections. The infection rates among older study subjects were nearly as high as in other high-risk populations, including men who have sex with men and young people.
The study authors defined swingers as "heterosexual couples who are practising mate swapping, group sex, [or who] visit sex clubs for couples." While it sounds obvious that this lifestyle puts people at higher risk for sexually transmitted infections, the concern is that because older people are not as well educated about sexually transmitted diseases as their younger partners, they don't regularly practice safe sex or get regular screenings to detect infections.
The researchers looked at data collected over a two-year period at a sexually transmitted infections clinic in the Netherlands. All patients visiting the clinic were asked directly if they were swingers. The infections rates were determined using that self-reported data from nearly 9,000 patients.
Overall, swingers had the second highest combined rates of chlamydia and gonorrhea with 10.4 percent of swingers being infected. That's compared with 14 percent of gay men, 10 percent in straight people who did not swing, and 5 percent in female prostitutes.
When the researchers specifically looked at the over-45 population, they found 55 percent of the diagnoses for chlamydia and gonorrhea occurred in swingers, versus 31 percent in gay men.
Reliable statistics for how many couples practice swinging are hard to come by. Some dating websites for American swinging couples boast memberships in the tens of millions and advocates of swinging say it's become a popular mainstream lifestyle choice for millions. The study authors hypothesize that the number of willing partners and the prevalence of unprotected sex among older individuals puts swingers at a higher risk for sexually transmitted infections. To lower the risk but continue with their lifestyle, researchers recommend swingers be tested for common infections like chlamydia and gonorrhea regularly and practice safe sex, including regular condom use.
Editor's Note: Medical news is a popular but sensitive subject rooted in science. We receive many comments on this blog each day; not all are posted. Our hope is that much will be learned from the sharing of useful information and personal experiences based on the medical and health topics of the blog. We encourage you to focus your comments on those medical and health topics and we appreciate your input. Thank you for your participation.