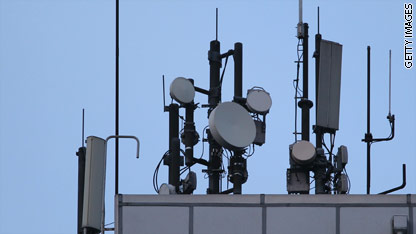 By Ann J. Curley
CNN Medical News Assignment Manager
A new British study finds no connection between early childhood cancer risk and pregnant mothers' exposure to cell phone towers. The study is published in the June 24 edition of the British Medical Journal.
The BMJ article notes that cell phone use in the U.K. has grown tremendously - from just under 9 million connections in 1997 to almost 74 million in 2007 - and worldwide there are over 4 billion cell phone connections.
Questions have been raised about possible health conditions tied to the use of cell phones, including brain and other cancers, especially after high use of cell phones. Public surveys have found high levels of concern about the potential risks of living near cell phone towers.
In May 2010, long-awaited data from an international cell phone study found no link between cell phone use and brain tumor rates; however, the study deemed their results "not definitive", calling for more research, and critics of the study assailed the methodology of the report published in the International Journal of Epidemiology.
To analyze cell phone towers' potential risks, U.K. researchers compared British data on childhood cancer rates of children between zero and four years old, and cross-referenced them with cell phone tower locations. The researchers found no association between cancer risk in young children and cell phone tower exposures during their mothers' pregnancies.
An accompanying editorial by John Bithell from the Childhood Cancer Research Group at the University of Oxford says medical caregivers should tell patients not to worry about living near mobile phone towers, saying "moving away from a mast, with all its stresses and costs, cannot be justified on health grounds in the light of current evidence."
Editor's Note: Medical news is a popular but sensitive subject rooted in science. We receive many comments on this blog each day; not all are posted. Our hope is that much will be learned from the sharing of useful information and personal experiences based on the medical and health topics of the blog. We encourage you to focus your comments on those medical and health topics and we appreciate your input. Thank you for your participation.