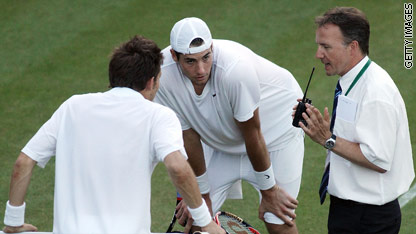 By John Bonifield
CNN Medical Producer
The longest tennis match in history resumed this morning.
Wednesday evening Nicolas Mahut and John Isner finally got a break on the Wimbledon court when the sun went down. The two tennis players had been battling each other for the win for 10 hours.
"I've seen some long matches, but never to that extent," says Dr. Gary Wadler, a former physician with the U.S. Open Tennis Championships for 11 years. "It underscores how fit someone has to be to play at high-level tennis."
Wadler says the 10-hour match most likely took a heavy physical toll on the players' bodies. Their energy systems were being taxed to the fullest.
"That's when you get fatigue. You can't keep up any more. You start cramping," Wadler says. "The vulnerability to injury increases when you're playing that long."
Wadler says issues of judgment come into play, as well as concerns about dehydration and heatstroke. As a former doctor on tennis courts himself, he says he used to encourage players to use their change-overs to drink adequate fluids.
"Once you start the match you only have 90-second turnovers. You can't make up the amount of water being lost in that amount of time," he says. "You really have to be hydrated going into the match."
And of course Wimbledon isn't a match; it's a tournament.
"The winner is going to have to move on to another match," Wadler says, "Their recovery is important, too."
Jack Stark, a sports physchologist works with NASCAR drivers, mixed martial arts fighters, wrestlers and basketball players, noted that the battle wasn't just physical.
"The body is an amazing thing," he said. "This may go down as one of the best examples of mental toughness of all time. It's mentally exhausting to watch it, let alone play it.... It's as mentally exhausting as it is physical."
Ultimately, Stark says,  "They know they're part of something incredibly special."
And for the next round? "Whoever survives, it will be a huge letdown."
CNN Senior Medical  Producer David S. Martin contributed to this report.
Editor's Note: Medical news is a popular but sensitive subject rooted in science. We receive many comments on this blog each day; not all are posted. Our hope is that much will be learned from the sharing of useful information and personal experiences based on the medical and health topics of the blog. We encourage you to focus your comments on those medical and health topics and we appreciate your input. Thank you for your participation.