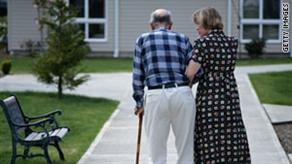 By Georgiann Caruso
CNN Medical Associate Producer
New tests can help determine which Parkinson's disease patients are most at risk of falling, researchers report in Neurology, the medical journal of the American Academy of Neurology.
Fear of a fall can be overwhelming for people suffering from any neurological illness and the people who care for them. "'What we found is that people, even with early stage Parkinson's, have problems in postural stability and balance and that they do fall a lot," said study author Graham Kerr, Ph.D., of Queensland University of Technology in Brisbane, Australia. "We are actually finding much earlier signs of falling than has been recognized before. People in the later-stage of the disease are going to be at even greater risk."
Parkinson's disease is a degenerative disorder of the central nervous system that affects at least half a million Americans. The disease costs the United States alone over $6 billion each year. Parkinson's is characterized by several primary symptoms: tremors in the hands, legs or head, stiffness in trunk and limbs, slow movements and problems with balance/postural instability.
In the study, researchers followed 101 people, mostly with early stage disease (average six years), whom were all given baseline clinical and functional tests while they were in their best medicated state. They lived independently and walked without aid. The researchers then had the subjects record their falls for six months. 48 percent fell once, and 24 percent fell more than once. Several similarities existed among those who fell: less leg strength, poor sensation in their feet, dizziness upon standing, imbalance during standing up- a lot more sway of their body- and problems with controlling the order of their movements.
"The predictions were fairly accurate. "We correctly identified 78 percent at risk for falling, and of those who were and of those we predicted are at risk, we can be certain 84 percent of them really will go on to fall," Kerr said. "We need to be able to predict those at risk, because as soon as you fall & you injure yourself, then there are other increased costs that go with it like fractures."
Kerr said a standard neurological exam, along with movement and balance assessments and a questionnaire about patients' walking ability, could easily be given to provide a sufficient prediction of falls.
Editor's Note: Medical news is a popular but sensitive subject rooted in science. We receive many comments on this blog each day; not all are posted. Our hope is that much will be learned from the sharing of useful information and personal experiences based on the medical and health topics of the blog. We encourage you to focus your comments on those medical and health topics and we appreciate your input. Thank you for your participation.