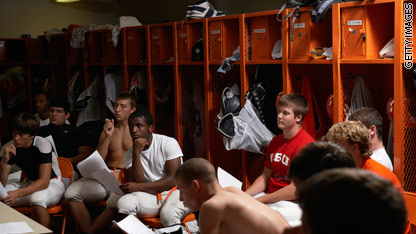 By Val Willingham
CNN Medical Producer
At any given time, one out of every three people in the U.S. suffers from a skin infection. Athletes are particularly vulnerable to contracting skin problems, because of the close quarters they work in–locker rooms–and their proximity to skin to skin contact and bodily secretions. Many of these infections, such as MRSA, can be serious, even life-threatening.
In an effort to provide information for avoiding, identifying and treating skin infections in athletes at all levels, a panel of experts unveiled guidelines to combat skin outbreaks in competitive sports.
The recommendations, which will be published in the July issue of the Journal of Athletic Training, were announced Wednesday at the National Athletic Trainer's Association annual meeting in Philadelphia, Pennsylvania.
Skin infections are everywhere, says Dr. Steven Zinder, assistant professor of exercise and sport science at the University of North Carolina at Chapel Hill and chair of the project. "We read about the effects of these diseases every day. Just recently, we lost a great athlete, Manute Bol from complications caused by a skin disease."
The panel worked on the recommendations for almost six years. Many are simple. Hygiene both for athlete and the facility –school, stadium, clubhouse– is key. Something as simple as washing your hands and throwing dirty towels into a hamper, away from other people, can cut down on skin infections. Clothing should be laundered immediately and equipment should be disinfected daily. Even mirrors harbor these infections. And athletes should be encouraged to complete daily skin checks and report any lesions immediately.
"Many of these procedures we learned in sixth grade," notes Zinder. "But we just don't exercise them."
"It's really a team effort," notes Jack Foley, assistant athletic director and director of sports medicine at Lehigh University. "We just have to be more aware of the problem and make sure we fight it with the latest technology," Foley added.
The recommendations also stress that athletic trainers, coaches and assistants, and parents, should be aware of different skin illnesses and their effects. Skin diseases fall into three different categories; fungal, such as athlete's foot, viral, which includes herpes and bacterial like the "flesh-eating" disease MRSA. Treatments vary but those who work with athletes should know what to look for.
"A lot of these outbreaks we see at the beginning of the season," says David Vasily, team dermatologist at Lehigh. "Working with athletic trainers is critical. They need to be aware of the importance of fighting these diseases. And they can make a difference." Vasily continued, "We are aware of the problem more than ever before. We are making progress in fighting these diseases, but we still have a long way to go"
The trainers organization has the full  guidelines on its website.
Editor's Note: Medical news is a popular but sensitive subject rooted in science. We receive many comments on this blog each day; not all are posted. Our hope is that much will be learned from the sharing of useful information and personal experiences based on the medical and health topics of the blog. We encourage you to focus your comments on those medical and health topics and we appreciate your input. Thank you for your participation.