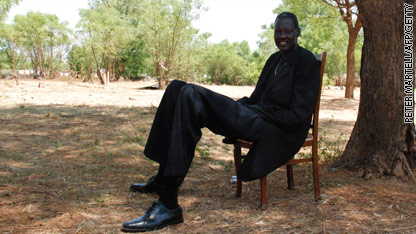 By Jennifer Bixler
CNN Medical Executive Producer
The past few weeks  have been a blur of hospitals and doctors for Mathiang Bol. His cousin basketball great Manute Bol died Saturday at the University of Virginia Medical Center at age 47.  Between making funeral arrangements, helping his Sudanese family understand the American health system and dealing with his own grief,  Mathiang, also known by his English name, George, has been going non-stop. "I was with him when he died," Bol told CNN as he drove family members to the airport Monday in Virginia. "They put him on a respirator on Friday. He passed on Saturday morning," says Bol.
George Bol says doctors told the family that a "broad range of complications" led to his cousin's death.  He had liver and kidney damage.  He also had a bad reaction to medicine and developed a rare skin disease, Stevens-Johnson syndrome, which causes skin and mucous membranes to become inflamed and blister.
In their grief, some people close to Bol wonder if he put his commitment to the people of his home country of Sudan above his own health.
"I think if he had not gone to Sudan, he would be alive today," says Tom Prichard, a friend of Bol and executive director of Sudan Sunrise, a group Bol worked with to help rebuild Southern Sudan.  "Back in the fall, I helped arrange for Manute to go to the doctor. He was having kidney problems.  He shouldn't have traveled until it cleared up."
But he did.  In November, he traveled to Sudan to work on the school he was building and lend support during the Sudanese presidential and parliamentary elections.  Prichard says Bol left behind a bag that contained his medicine.  It took weeks to get the medicine to Bol in Southern Sudan.  Complicating things, Bol then decided to extend his time in Sudan.  "I am going to stay because people need me," Prichard remembers Bol telling him.  The pain got worse.  Prichard says supporters arranged for a private plane with a nurse to bring Bol out of Sudan, but he refused.  Eventually, the pain became so bad, Bol went to Nairobi, Kenya, for treatment.  He had gallstones and internal bleeding.  It's there, according to Prichard, that Bol was given medicine that caused Bol's lips to swell, one of the classic symptoms of Stevens-Johnson.
In May, Bol flew back to the United States, where he was admitted to Reston Medical Center in Virginia.  A few days later, he was transported to the University of Virginia Medical Center.  Doctors tried to save his life, but there was nothing they could do.
"He is beloved in Sudan and will be missed," says Prichard.  A memorial is planned for Saturday in Washington.  Afterwards, his body will be flown to Sudan for burial.  Bol leaves behind eight children ranging in age from 22 years to 3 months.
Editor's Note: Medical news is a popular but sensitive subject rooted in science. We receive many comments on this blog each day; not all are posted. Our hope is that much will be learned from the sharing of useful information and personal experiences based on the medical and health topics of the blog. We encourage you to focus your comments on those medical and health topics and we appreciate your input. Thank you for your participation.