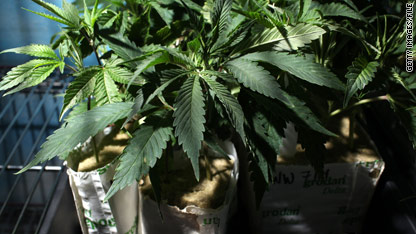 By Elizabeth Landau
CNN.com Health Writer/Producer
A medication called Sativex has become the first drug fully approved for multiple sclerosis that is made from natural cannabis.
The United Kingdom's Medicines and Healthcare products Regulatory Agency approved the drug, an oral spray, on Friday, and it went on sale in the country on Monday. The drug has been available in Canada on a limited basis since 2005 for the relief of neuropathic pain and advanced cancer pain, and also to a small number of patients in Spain. It is expected to be approved more broadly in Spain later this year.
Sativex is approved by prescription only for multiple sclerosis patients in the U.K. It targets the effects of spasticity, a symptom of multiple sclerosis caused by damage to nerves in the central nervous system. Loss of mobility and painful spasms may result from this involuntary stiffening of muscles.
The drug is sprayed into the mouth on the inside of the cheek or under the tongue, said Bayer Schering Pharma, the pharmaceutical company launching the product. Cannabis plants grown in a controlled environment give rise to the extracts that are the active ingredients of the drug.
The Multiple Sclerosis Trust, a U.K. charity, supported the launch of this medication.
In clinical trials, only about half of study participants with multiple sclerosis found that it relieved spasms and cramping associated with spasticity. For this sort of research, that's a good result, said Mark Rogerson, spokesman for GW Pharmaceuticals, which developed the drug.
There is no evidence of long-term dependence or tolerance; patients have not reported needing to take more of the spray, and many say they've reduced the dose over time, Rogerson said. Common side effects include dizziness and fatigue.
The cost is 125 British pounds for a pack of the spray,  or about $185, which works out to 11 pounds per day, or about $16, for the average patient, Rogerson said.
In the United States, the only medical marijuana treatment available is a prescription drug called Marinol, whose active ingredient is synthetic THC - making it distinct from the natural cannabis plant extracts in Sativex. In the U.S., cancer patients may take Marinol to relieve nausea and vomiting side effects of chemotherapy, and AIDS patients may use it to help with loss of appetite, according to the U.S. Drug Enforcement Agency. Marinol comes in the form of a pill, although other delivery methods such as inhaler or patch, are being explored.
Sativex is in phase II clinical trials for cancer patients in the U.S., Rogerson said. He estimated that it will be about two years before it could get U.S. Food and Drug Administration approval.
Rogerson noted a difference in the political climate surrounding medical marijuana in the two nations.
"U.K. public opinion is quite ready for a cannabis-based medicine. There's really very little sense of, 'Oh gosh it's cannibis, it's a bad thing,'" he said. "People understand that it's different from recreational drug-taking, and also that it's a treatment for a number of people who suffer from a very, very debilitating illness."

Editor's Note: Medical news is a popular but sensitive subject rooted in science. We receive many comments on this blog each day; not all are posted. Our hope is that much will be learned from the sharing of useful information and personal experiences based on the medical and health topics of the blog. We encourage you to focus your comments on those medical and health topics and we appreciate your input. Thank you for your participation.