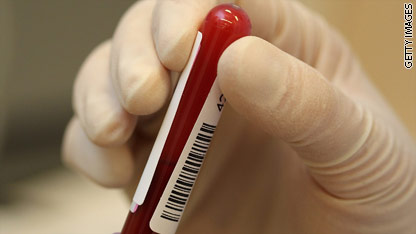 By Saundra Young
CNN Medical Senior Producer
The first diagnostic test to detect both HIV antigens and antibodies was approved Monday by the Food and Drug Administration on Monday. The new test means infections will be caught days earlier. Antigens are proteins produced by a virus, bacteria or other microorganisms immediately after infection. They stimulate the immune system to produce antibodies–a protein found in the blood that help fight foreign substances such as  viruses. Antibodies develop days after the initial infection as the body works to fight off infection.
The test, called the ARCHITECT HIV Ag/Ab Combo assay was developed by Abbott Laboratories and will be used to diagnose both HIV-1 and HIV-2 infections in adults, pregnant women and children 2 years and older. HIV-1 is found around the world and responsible for most HIV infections, while HIV-2 is seen primarily in West Africa. They are both transmitted the same way, but HIV-2 seems to develop more slowly and is usually milder at the beginning. A test is needed to determine which type you have.
This highly sensitive new  assay - or test that determines a substance's composition - will be used to diagnose infection before antibodies actually appear, whereas most current tests catch only antibodies.
"The approval of this assay represents an advancement in our ability to better diagnose HIV infection in diagnostic settings where nucleic acid testing to detect the virus itself is not routinely used," said Dr. Karen Midthun, acting director of FDA's Center for Biologics Evaluation and Research. "It provides for more sensitive detection of recent HIV infections compared with antibody tests alone."
According to the Centers for Disease Control and Prevention antibody-only tests can miss nearly 10 percent of infections in many high-risk populations.
"By accurately determining someone's HIV infection status as early as possible, you not only can help that individual access needed treatment, care and counseling, but also may prevent new infections," said Dr. Anthony Fauci, director, National Institutes of Allergy and Infectious Diseases at the National Institutes of Health . "This is because people who know that they are HIV-infected are less likely to engage in unsafe behaviors than undiagnosed people, and also can take antiretroviral medications that likely will help make them less infectious to others if they continue unsafe behavior."
Abbott believes this test will make a difference.  "Every nine and a half minutes someone in the United States is infected with HIV. That's 56,000 new cases each year – enough to fill the baseball stadium in many U.S. cities," says John Hackett, Jr.., Ph.D., research fellow and manager, emerging pathogens and Virus Discovery, Abbott.  "Even more frightening is the fact that 1 in 5 people infected don't even know it, and it is estimated that between 15 and 50 percent of ongoing transmissions come from people who were recently infected."
Editor's Note: Medical news is a popular but sensitive subject rooted in science. We receive many comments on this blog each day; not all are posted. Our hope is that much will be learned from the sharing of useful information and personal experiences based on the medical and health topics of the blog. We encourage you to focus your comments on those medical and health topics and we appreciate your input. Thank you for your participation.