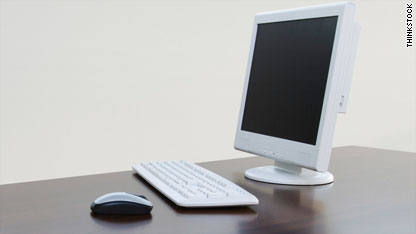 By Caleb Hellerman
CNN Senior Medical Producer
Flame retardant chemicals found in a wide variety of products may affect the function of the thyroid gland, according to a study published Monday by researchers at the University of California, Berkeley. Known as polybrominated diphenyl ethers (PBDEs), the chemicals are used in television and computer screens, as well as in polyurethane foam for furniture and carpeting.
Researchers examined 270 pregnant women, checking the level of PBDEs in their bloodstream, and the level of TSH, a hormone linked to thyroid function. On average, higher levels of PBDEs were linked to lower TSH levels – which means that women with a high PBDE exposure tended to have overly active thyroid glands. (The lower the TSH level, the more active the thyroid gland).
The study is published in the journal "Environmental Health Perspectives."
When low TSH is found alongside high levels of another hormone, T4, a patient can be diagnosed as hyperthyroid. In pregnant women, "hyperthyroidism is associated with miscarriage, birth defects and fetal growth problems," says Brenda Eskenazi, one of the study authors. The TSH levels noted in the study are not enough to warrant a diagnosis of hyperthyroidism, but Eskenazi says the findings are worrisome because the level of PBDEs in the women were fairly typical, compared with levels in the overall U.S. population. She worries that the risk of hyperthyroidism may rise for people with more exposure – such as long-time residents of California, where flame retardants became ubiquitous with the passage of state laws in the 1970s.
Health concerns about PBDEs are not new. In December, the Environmental Protection Agency announced steps to phase out the chemicals. Albemarle and Chemtura, two large manufacturers of PBDEs, as well as ICL, a major importer, signed letters promising to end their use in new electronics products by the end of 2010, and in all products by January 1, 2013.
Ray Dawson, an official with Albemarle, questioned the relevance of the new paper, saying most of the chemicals detected are an older type – so-called "pentaBDEs" – that were phased out several years ago.
Eskenazi says the changes are welcome, but says that PBDEs can linger in fatty tissue, and notes that older products with PBDEs will remain in use. "I'm sitting on a couch with foam cushions, right now," she told a CNN reporter over the phone.  "As the foam of this couch continues to disintegrate, I will continue to be exposed to PBDEs. We'll be living with this stuff for a long time."
Read more about toxic chemicals in Dr. Sanjay Gupta's investigation, "Toxic America."
Editor's Note: Medical news is a popular but sensitive subject rooted in science. We receive many comments on this blog each day; not all are posted. Our hope is that much will be learned from the sharing of useful information and personal experiences based on the medical and health topics of the blog. We encourage you to focus your comments on those medical and health topics and we appreciate your input. Thank you for your participation.