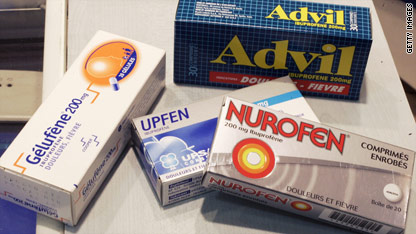 By Elizabeth Landau
CNN.com Health Writer/Producer
We received an enormous reader response last week regarding the study on non-steroidal anti-inflammatory drugs and cardiovascular death. That study found that there were 769 deaths out of 1,028,437 relatively healthy people who took NSAIDs – a small but significant risk – and that the risk went up with higher doses.
CNN gave some of your questions to Dr. Eugene Viscusi, director of pain management at Thomas Jefferson University in Philadelphia, Pennsylvania. Here's what he had to say:
1. How would you compare prescription strength NSAIDs with nonprescription strength in terms of cardiovascular risk?
"It really seems to be based on duration," he says. "The higher the dose, and the longer you're on it, the higher the cardiovascular risk," One single dose does not increase the risk of heart problems, he said. But if a person is already at risk for heart attack or other complications, a doctor might not prescribe them a NSAID, he said, or might have to pay special attention to negative effects. But the bottom line is "I wouldn't want readers to get the idea that a few doses are likely to cause a severe and profound risk," he said.
2. Do you think that the culture of over-the-counter painkillers is dangerous?
It's not so much abuse that's the problem with over-the-counter medications; it's misuse, he said. Some that has to do with ambiguous labeling. Most people don't know, for instance, that Pepto Bismol contains aspirin. " I believe it's the combination agents in over-the-counter medications that creates a lot of the confusion that leads to unintended overdose," he said. Combining drugs can be dangerous, especially if you don't know exactly what's in multiple medications you are taking at the same time.
3. I have been told to take an aspirin before taking ibuprofen because it counteracts the clotting agents in ibuprofen, which can lead to stroke.
Theoretically, if you take an anti-platelet drug such as aspirin, you might reduce your risk, he said. But many patients who are taking low-dose aspirin for cardiovascular event prevention will want the anti-platelet effect, and the ibuprofen may cancel it out. For those patients who have a risk factor, this might not be the class of drugs you would use as the first line aid, he said.
4. Should I not take ibuprofen, and take something with naproxen instead, since the study found less risk with it?
If you are the average patient who doesn't have a cardiac risk profile, then your risk is minimal, he said. The bigger question is: Are you going to be on these drugs on a long-term basis? It's not the occasional "I have a headache or a fever, and take it for 24-48 hours," he said. "I can't say that we need to scare patients who have a moderate risk profile, and say, 'Just don't take non-steroidals.'" The vast majority of patients do very well with them, but their cardiac risk should be assessed, and the higher the baseline risk, the less likely they should be on these drugs for a prolonged basis, he said.

5. I take ibuprofen on a monthly basis for PMS but have a genetic risk of heart attack. Is it OK?
You're dealing with a relatively young woman – if she has long-standing high blood pressure and a cardiovascular disease or, worse yet, had blood clots in her legs, her risk is higher, he said. But it's still a relative risk, he said. It's not a "yes or no" phenomenon – the patient and doctor should evaluate it and decide what's best based on health and family history.
A side note: Many patients who took Vioxx for arthritis were distraught when the drug came off the market because of cardiovascular risks, he said. In fact, some said they would have accepted the risk of that incredibly potent NSAID, because it worked so well for their pain.
Editor's Note: Medical news is a popular but sensitive subject rooted in science. We receive many comments on this blog each day; not all are posted. Our hope is that much will be learned from the sharing of useful information and personal experiences based on the medical and health topics of the blog. We encourage you to focus your comments on those medical and health topics and we appreciate your input. Thank you for your participation.