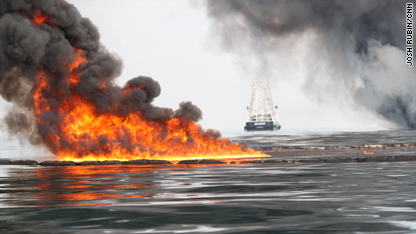 By Caleb Hellerman
CNN Senior Medical Producer
As cleanup workers burn off oil from BP's ruined Deepwater Horizon well, the black clouds of smoke soaring skyward are carrying questions about health risks, along with a thick helping of soot, volatile gases and other toxic byproducts.
The most immediate risk is to cleanup workers or others in proximity to the burn, according to Dr. Phil Harber, head of the division of Occupational and Environmental Medicine at the David Geffen School of Medicine at UCLA.
However, depending on the eventual scope of the burn, and length of the cleanup effort, others on shore could be affected, says Harber. "People with asthma, or who are very young, or who have cardiac disease,  are much more likely to be sensitive the released pollutants."
Federal officials with the Occupational Safety and Health Agency have issued a memorandum insisting on proper safety equipment and training for all cleanup workers. When reached by CNN, spokespeople for two companies helping with the effort – Global Industries, and Boots and Coots - would not say if workers were taking special precautions to protect against the smoke.
More than 12,600 workers are helping with the overall cleanup effort, according to the Centers for Disease Control and Prevention.
The black cloud is largely made up of small particles that can lodge deep in the lungs. It also contains gases such as sulfur dioxide and hydrogen sulfide, and volatile compounds called  polycyclic aromatic hydrocarbons, which at high exposures are considered a trigger for cancer, says Harber.
Of course, because of the volatile compounds it gives off, the spilled oil poses some health risk, simply sitting on the surface. OSHA has been monitoring air in the main clean up area, and posting some results on its website. The Environmental Protection Agency also has air monitoring stations around the Gulf, with results posted on this website. According to data posted on June 15, the EPA says that air-quality levels for ozone and particulates on the Gulf coastline are no different from usual, for this time of year.
However, the gases swirling around the spill do seem to be having at least some health effect. Hospitals have reported several dozen cleanup workers who complained of symptoms including headaches, nausea and dizziness.
Long-term, the potential impact is unclear. John Howard, director of the National Institute of Occupational Safety and Health, told a congressional panel Wednesday, "We have very scant information, in general, about oil spills."
With reporting from CNN intern Trisha Pasricha.
Editor's Note: Medical news is a popular but sensitive subject rooted in science. We receive many comments on this blog each day; not all are posted. Our hope is that much will be learned from the sharing of useful information and personal experiences based on the medical and health topics of the blog. We encourage you to focus your comments on those medical and health topics and we appreciate your input. Thank you for your participation.