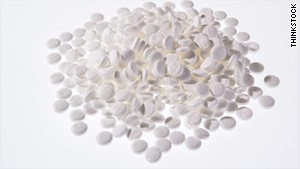 By Val Willingham
CNN Medical Producer
The Centers for Disease Control and Prevention say the most common poisonings treated in emergency departments in the United States, are caused by misuse of opioid pain medications.  It is estimated that at least 980,000 people in the United States are currently addicted to some type of opiates.
So it's no surprise that a recent study, conducted by the Substance Abuse and Mental Health Services Administration (SAMHSA) found a 111 percent increase in emergency room visits involving non-medical use of prescription opioid pain relievers.
The increase happened over a five year period. Looking at statistics from 2004 to 2008, the estimated number of emergency department visits linked to non-medical use of prescription pain relievers rose from 144,644 visits to 305,885 visits a year, more than doubling the amount of cases. The study used data from SAMHSA's Drug Abuse Warning Network emergency department system, which examines emergency department visits for non-medical use of legal drugs, such as using them without a prescription.
Study authors also noted age and gender were non-factors. The dramatic rise occurred in both men and women, as well as among those younger and older than 21.
"The abuse of prescription drugs is our nation's fastest-growing drug problem." exclaims Office of National Drug Control Policy Director Gil Kerlikowske.
Three prescription opioids stood out as drugs most frequently used in these emergency cases. Oxycodone (used for severe to moderate pain) incidents rose 152 percent. Hydrocodone (powerful analgesic/cough suppressant) products were up 123 percent and Methadone (strong analgesic/chronic pain) episodes rose to 73 percent. All three are medically prescribed to treat moderate to severe discomfort, but many times are used for getting high, leading many people to overdose on them.
Interestingly the numbers of emergency department visits involving non-medical use of other types of prescription pain relievers such as morphine, fentanyl and hydromorphone were lower than the prior drugs mentioned, but they also showed sharp rises during this period Investigators say these upward trends reflect in part dramatic increases in the rate at which these drugs are prescribed in the United States.
"We urgently need to take action," says CDC director Dr. Thomas Frieden.
"Emergency department visits involving non-medical use of these prescription drugs are now as common as emergency department visits for use of illicit drugs. These prescriptions medicines help many people, but we need to be sure they are used properly and safely."
Editor's Note: Medical news is a popular but sensitive subject rooted in science. We receive many comments on this blog each day; not all are posted. Our hope is that much will be learned from the sharing of useful information and personal experiences based on the medical and health topics of the blog. We encourage you to focus your comments on those medical and health topics and we appreciate your input. Thank you for your participation.