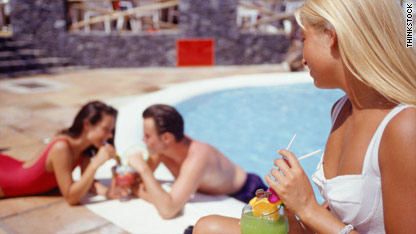 By Elizabeth Landau
CNN.com Health Writer/Producer
You may have found a celebrity more attractive after reading that he or she is in a good relationship. Or maybe you've paid a little more attention to someone in your social circle after you've seen a significant other on his or her arm.
A new study in the journal Evolution and Human Behavior suggests that humans, like fish and birds, engage in "mate copying," meaning another person's successful search for a partner can influence your own mate preference.
Researchers looked at 40 men and 40 women - a relatively small sample size. First, participants rated photos of eight members of the opposite sex in terms of their potential for a short-term or long-term relationship. Then, people in the study watched videos of each person they had rated interact with someone else in a speed date.
Participants judged how romantically interested the daters were in each other in each interaction, and then re-rated the person of the opposite sex based on short-term and long-term relationships.
Researchers found that participants were likely to rate daters higher who had been on what they deemed a successful date - an example of mate copying.
"Our results suggest that both men and women are influenced by social information when making both short-term and long-term relationship attractiveness judgments," the authors said.
There were some noticeable gender differences, however. Men showed an increase in relationship interest regardless of how they judged the interaction of the date; women, on the hand, had a diminished interest when they perceived that the daters were not interested in each other. They upped their relationship rating for the man in the example only when the individuals appeared to be mutually interested.

Editor's Note: Medical news is a popular but sensitive subject rooted in science. We receive many comments on this blog each day; not all are posted. Our hope is that much will be learned from the sharing of useful information and personal experiences based on the medical and health topics of the blog. We encourage you to focus your comments on those medical and health topics and we appreciate your input. Thank you for your participation.