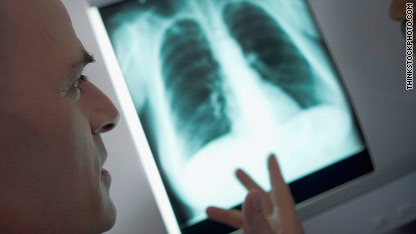 By Leslie Wade
CNN Medical Producer
A new study suggests vitamin B6 may play a role in preventing cancer (watch video).
A study in the latest edition of the Journal of the American Medical Association found adults with higher levels of vitamin B6 in their blood were half as likely to develop lung cancer as those with low B6 levels.
"This doesn't mean that if you take vitamins and eat well, cigarette smoking is safe," explains Dr. Norman Edelman, chief medical officer for the American Lung Association.
The study included almost 400,000 adults from 10 European countries who were either current smokers, former smokers or had never smoked. Researchers looked at the differences in vitamin B6 levels between those who developed lung cancer after five years and those who did not.
Those with lower blood levels of vitamin B6 had higher risks of lung cancer, no matter what their smoking status. Doctors say healthy levels of B vitamins help make and maintain healthy DNA – an important factor in the prevention of cancer. Vitamin B6 is in a variety of foods including meats, poultry, fish, grains, beans and some fruits and vegetables – such as avocados, broccoli and bananas.
Though many cancer experts are cautiously optimistic about this research, they stress that until these findings are replicated in other studies, nothing definitive can be directly linked to vitamin B6. Even study author, Dr. Paul Brennan with the International Agency for Research on Cancer, believes there is more  learn.  "We don't know if these compounds are really lowering the risk. In your diet, if you have a high level of a certain vitamin then you might have higher levels of other vitamins as well."
Edelman says the research shouldn't be overlooked. "Reducing risk by 50 percent is quite impressive. It's more than one would expect by differences in diet."
Experts point out that many people in Western populations are deficient in B vitamins. And researchers caution, if you're a smoker, don't let this serve as an excuse to continue smoking and don't be tempted to take high doses of the vitamin– that's unhealthy.
Smoking is responsible for eight out of 10 cases of lung cancer and though many people quit, they remain at risk. Finding preventive measures to reduce the risk of lung cancer may be especially important to former smokers.
Editor's Note: Medical news is a popular but sensitive subject rooted in science. We receive many comments on this blog each day; not all are posted. Our hope is that much will be learned from the sharing of useful information and personal experiences based on the medical and health topics of the blog. We encourage you to focus your comments on those medical and health topics and we appreciate your input. Thank you for your participation.