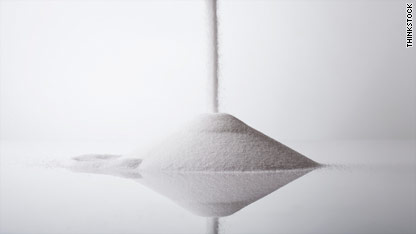 By John Bonifield
CNN Medical Producer
An advisory committee on U.S. dietary guidelines is urging the government to decrease the recommended daily amount of saturated fat in American's diets from 10 percent  to 7 percent of total calories consumed. The panel's report also recommends that  Americans decrease the amount of daily sodium in their diets from 2,300 milligrams to less than 1,500 milligrams and calls for drinking fewer sugar-sweetened beverages.
"It's sort of a gradual approach to decrease the caloric intake of the American public," says Penelope Slade-Sawyer, Deputy Assistant Secretary for Health Diseases Prevention and Health Promotion at the Department of Health and Human Services.
The government advisory panel of 13 experts in nutrition and health met six times over a 20-month period to develop its recommendations. The Department of Agriculture and the Department of Health and Human Services are reviewing the report.
"This report is a crucial step in the development of the dietary guidelines for Americans," says Robert Post, Deputy Director of the Center for Nutrition Policy and Promotion at the Department of Agriculture.
The government is expected to issue new dietary guidelines later this year.
Slade-Sawyer notes childhood obesity has tripled in the past 30 years, and today's report, she says, is unprecedented in addressing the obesity epidemic.
"The committee stated that the obesity epidemic is the single greatest threat to public health in this century. Every section of this report was developed in a way that addresses the challenges of obesity," she says.