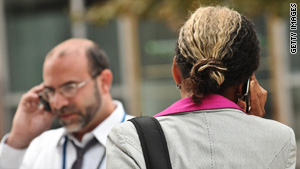 By Danielle Dellorto
CNN Medical Senior Producer
Critics are speaking out against the the controversial Interphone cell-phone safety study released last month.
U.S. researcher Lloyd Morgan presented a report in Seoul, South Korea this week, challenging Internphone's findings at the Bioelectromagnetics Society's annual meeting. Morgan's presentation is based on his re-evaluation of the Interphone study. He says it emphasizes several design flaws.
"The Interphone study is giving people false hope. Most people only hear the headline, Cell phones don't cause cancer' yet the devil is in the details," Morgan, Senior Research Fellow at the Environment Health Trust, said. ""When I read study papers, I look for what they are not saying – and this study isn't saying a lot."
According to Morgan, the bias of the participants in the study, the exclusion of data from children and young adults, the exclusion of people who died from brain tumors as well as a limit to the type of tumors studied are among the study's design flaws and are all reason to question the validity of the Interphone research.
Interphone's international study concluded cell phone usage doesn't increase the risk of brain tumors for the "average" person but also acknowledged that the study's findings were not definitive and called for more research.
Other scientists and researchers, like Lloyd Morgan, say the study's findings were not only misleading to the general public but also reference out-of-date data that doesn't correlate to the average cell-phone user today.
"The average study participant used his phone only 2-2.5 hours a month. In contrast, the typical person in the U.S. today uses his phone about 2.5 hours a week–about 4 times as much and will exceed the lifetime use of the typical Interphone study participant in less than a year," said University of California, Berkeley School of Public Health director, Dr. Joel Moskowitz.
For now, the potential health risks of cell phones usage remain unclear.
"I want to be clear that I don't believe all cell-phones need to be abandoned but consumers can't read headlines from studies like this and think they are completely safe," said Morgan. "I don't want people to wake up 10 years from now and say, 'Oh my god, why weren't we told.'"
Editor's Note: Medical news is a popular but sensitive subject rooted in science. We receive many comments on this blog each day; not all are posted. Our hope is that much will be learned from the sharing of useful information and personal experiences based on the medical and health topics of the blog. We encourage you to focus your comments on those medical and health topics and we appreciate your input. Thank you for your participation.