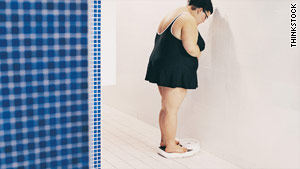 By Elizabeth Landau
CNN.com Health Writer/Producer
Here's another peril of obesity to add to the well-known risks: It may harm sexual health.
A study published in the British Medical Journal looked at survey results from more than 5,500 women and 4,600 men in France regarding sexual behavior. Of them, 411 women and 350 men were obese, as defined by a body mass index (BMI) of over 30.
Unintended pregnancy or abortion were four times higher among obese women under 30 years old than among normal weight women in that age range. The authors reason that this may stem from a lack of effective contraception. Obese women were 70 percent less likely to use the pill, and eight times more likely to use less effective methods, such as withdrawal.
This may relate to another finding in the study: that obese women tend to infrequently seek contraception from health care professionals, compared with normal-weight women. The phenomenon may reflect the obese women's negative feelings about their bodies, worries that the pill will make them gain more weight, or their doctors' concerns about the cardiovascular risks of estrogen-progesterone contraceptives.
Obesity was associated with erectile dysfunction in men, but not with sexual dysfunction among women. Still, researchers found a trend toward decreasing sexual desire with increasing BMI.
Obese women between ages 18 and 29, they found, were three times as likely to have met a sexual partner through the internet than women with a normal BMI. The likelihood of having seen a pornographic film in the past 12 months increased twofold among obese women, but not men.
Researchers found that obese women were less likely than normal weight women to say they had a sexual partner in the past 12 months, and obese men were less likely than their normal weight counterparts to have had more than one sexual partner in that time period.
Partners of obese men and women were more likely to be obese also, with a stronger association for women than men.
Many of these gender differences have not been shown in previous studies, the authors said, and health care professionals should be aware of this effect. However, note that this study comes from a population in France, and country-based factors may have influenced the findings.
Editor's Note: Medical news is a popular but sensitive subject rooted in science. We receive many comments on this blog each day; not all are posted. Our hope is that much will be learned from the sharing of useful information and personal experiences based on the medical and health topics of the blog. We encourage you to focus your comments on those medical and health topics and we appreciate your input. Thank you for your participation.