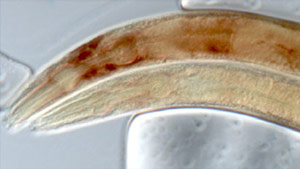 By Caleb Hellerman
CNN Medical Senior Producer
A scientist known for so-called suspended animation research has a new paper hinting at a way to improve the survival odds of trauma victims and people undergoing major, risky surgery.
Biologist Mark Roth and two colleagues tested the ability of two types of organisms – garden worms and yeast – to survive extreme cold. After 24 hours at temperatures just above freezing, 99 percent of both the worms and the yeast were dead.
The researchers then repeated the experiment, after first "suspending" each organism with a drug – nitrogen – that drains oxygen from cells. This time, when temperatures were returned to normal and the nitric oxide was removed, most of the creatures came back to life, as if nothing had happened.
The paper is published in a journal called "Molecular Biology of the Cell."
A company co-founded by Roth, who is based at the Fred Hutchinson Cancer Research Center in Seattle, is working to develop a similar drug, hydrogen sulfide, into a therapy that would extend the window of survival for people suffering massive blood loss, stroke or cardiac arrest. The new paper suggests a potential link between this work and the expanding use of therapeutic hypothermia, in which doctors carefully cool patients to about 10 degrees below normal body temperature, a process that's been shown to improve survival after cardiac arrest.
Deeper cooling – to around 60 degrees Fahrenheit – is reserved for risky heart or brain surgeries, where blood flow needs to be temporarily stopped. It's considered a last resort, because extreme low temperatures carry a high risk of brain damage, heart arrhythmias and other problems.  Outside the hospital, the lowest body temperature a person is known to have survived is 56 degrees.
Roth says a "suspended animation" drug might some day allow a way to get the full benefit from hypothermia, without dangerous side effects. "You can vastly increase survival limits of animals in the cold, if you put them in suspended animation, if you reduce oxygen consumption," he says.
After seeing the same dramatic effect in very different creatures – "[Genetically], worms and yeast are about as far away from each other as they are from humans"– Roth hopes it turns out that the survival mechanism is something basic to all living cells, even ours. "Obviously we don't know if this would ever work in humans. But we hope it will."
Editor's Note: Medical news is a popular but sensitive subject rooted in science. We receive many comments on this blog each day; not all are posted. Our hope is that much will be learned from the sharing of useful information and personal experiences based on the medical and health topics of the blog. We encourage you to focus your comments on those medical and health topics and we appreciate your input. Thank you for your participation.