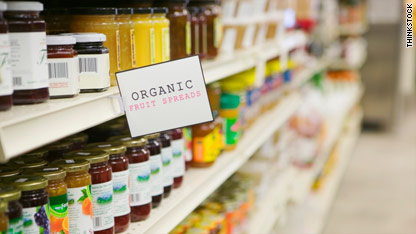 By Elizabeth Landau
CNN.com Health Writer/Producer
"Organic" doesn't mean "low-calorie," but people still treat organic products that way, according to a new study to be published in the journal Judgment and Decision Making.
Popular culture has promoted strong associations between the concepts of "organic" and "healthy," leading some consumers to believe that organic foods have fewer calories than their non-organic counterparts, the study said. This may also lead people to make choices about foods that are counterproductive to maintaining or achieving a healthy weight. Study authors Jonathon Schuldt and Norbert Schwarz at the University of Michigan did two studies examining this point.
In the first, they randomly assigned 114 college students at Michigan to view a web page with actual nutrition facts about either regular Oreos or Oreos "made with organic flour." Each product had 160 calories in two cookies. Participants responded to questions comparing the calories in the Oreos they had just read about to other cookie brands.
Participants who read nutritional facts about Oreos with organic flour were more likely to judge that product as having fewer calories than other brands, compared with people presented with facts about conventional Oreos. Participants also said that organic cookies were more appropriate to eat more often than the conventional cookies. Both judgments about calories and how often a food should be eaten are factors in obesity, the authors note.
They also found that participants who identified themselves as pro-environment were more likely to judge the organic cookies as lower in calories compared against other brands. This make sense, given that people conscious of the environment value organic processes; the positive qualities of "organic" may translate into other domains such as "low-calorie" in the minds of some people, the authors said.
The second study looked at whether people's perceptions of organic products are associated with how much exercise they think they need. Participants, 215 students at the University of Michigan, read a story about a person facing a choice about fitness. The character Susie, who wants to lose weight, ate roasted vegetables over brown rice for dinner in all versions of the story. Participants saw one of five dessert scenarios: "organic ice cream," "conventional ice cream," "organic cookie," "conventional cookie," and no dessert. The study then asked: Would it be okay for Susie to skip her usual 3-mile run tonight?
Participants were more lenient in saying that she could skip the workout when she chose an organic dessert, compared with those who read about her having a conventional dessert.
"As millions of Americans attempt to lose weight, eating organic foods - even desserts - may be viewed as a substitute for actual weight-loss promoting behaviors," the authors write.
The research did not find an association between the body mass index of participants and their reported choices, but study authors recommend further exploration into the effects of "organic" claims with actual behavior of consumers.
Editor's Note: Medical news is a popular but sensitive subject rooted in science. We receive many comments on this blog each day; not all are posted. Our hope is that much will be learned from the sharing of useful information and personal experiences based on the medical and health topics of the blog. We encourage you to focus your comments on those medical and health topics and we appreciate your input. Thank you for your participation.