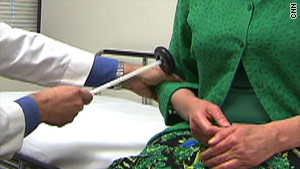 By Georgiann Caruso
CNN Medical Associate Producer
An FDA advisory committee on Thursday recommended approval of the first oral treatment for relapsing forms of multiple sclerosis.
The decision paves the way for final FDA approval of  FTY720 or fingolimod before the end of September as a first-line choice for the treatment of relapsing forms of multiple sclerosis.
The drug would complement other long-term therapies on the market, all which aim to modify the course of the chronic neurological disease, and all which involve a needle or injection.  Fingolimod reduces the relapse rate by about half, according to studies early this year in the New England Journal of Medicine.
Fingolimod is taken in capsule form once a day, and if further trials are successful, its use could be extended to people with the primary progressive form of the disease.
In multiple sclerosis, the nerve cells' protective outer lining becomes damaged, disrupting signals that control muscles.  The cause is unknown, but it's believed to be an autoimmune disease, which means the patient's own immune system turns on itself.  This new drug works by preventing the release of white blood cells, so the nerve linings can't be attacked.  Unfortunately, that can leave the body vulnerable to infection and cancer.
Two studies published in the New England Journal of Medicine in February point out that some serious side effects have been linked to this new MS drug.  One study cited concerns including  infections, cardiovascular effects,  swelling of the retina and elevated liver-enzyme levels.  The other study noted slow heart rate, retinal swelling, infections, and possibly cancers.  An editorial in the same journal pointed out that the rate of herpes infections among patients receiving the 1.25-mg dose of the drug was 5.5 percent; two patients died.
"The risk of infections of any kind is the main side effect we worry about with this drug," says Dr. Loren Rolak, an MS expert from the Marshfield Clinic in Wisconsin and a spokesman for the National MS Society.
But Rolak, who was not involved in the development of the drug, tells CNN he's still excited about the prospect of this new drug being approved.  "At last, we can treat a whole lot of MS people that we've not been able to treat before."
For people with a phobia of needles, people who don't respond to the current treatments, those who are just plain tired of needle sticks or people who cannot handle the side effects of the existing drugs, including flu-like symptoms or bruising, fingolimod would provide another choice.  Rolak said new patients may be very interested in fingolimod because they're taking a pill, rather than giving themselves an injection and because overall he says the drug "does seem to be safe and well-tolerated."
"It's really going to be different for each individual patient. I certainly do have patients being treated with one of our current drugs. They are doing very well, and because it's clearly working for them, I plan not to switch them," he said.
The FDA advisory panel did recommend that if the FDA does approve fingolimod, it should also require "a post-marketing study that would proactively gather information about adverse events and longer-term safety."
Editor's Note: Medical news is a popular but sensitive subject rooted in science. We receive many comments on this blog each day; not all are posted. Our hope is that much will be learned from the sharing of useful information and personal experiences based on the medical and health topics of the blog. We encourage you to focus your comments on those medical and health topics and we appreciate your input. Thank you for your participation.