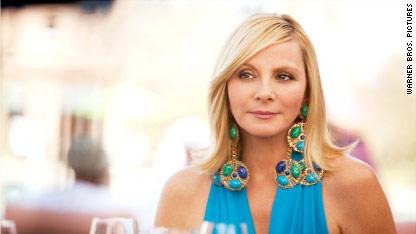 By Elizabeth Cohen
Senior Medical Correspondent
You may find the new "Sex and the City" movie entertaining – but don't turn to it for medical advice.
In the movie, Samantha Jones, the eldest of the famous foursome of gals, takes hormones.
"I'm leading the way through the menopause maze," she tells her friends. "I've tricked my body into thinking it's younger…No hot flashes. No mood swings. And my sex drive is right back to where it was."
The medical hiccup: Samantha had breast cancer, and doctors generally don't recommend hormone therapy for breast cancer survivors, since some studies show it increases the chances of having a recurrence.
"Most doctors that I know would do everything possible to avoid use of hormone replacement therapy in a woman with a past history of breast cancer," says Dr. Len Lichtenfeld, deputy chief medical officer for the American Cancer Society.
Some breast cancer survivors are upset about the movie.
"It drives me crazy that some woman out there might think this is OK," says Courtney Bugler, a breast cancer survivor and executive director of the Young Survival Coalition.
Candice McDonough, a spokeswoman for New Line Cinema, which produced "Sex and the City 2," declined to comment.
The National Cancer Institute and Susan G. Komen for the Cure have advice for breast cancer survivors about hormone replacement therapy.
With reporting by CNN's Sabriya Rice and John Bonifield