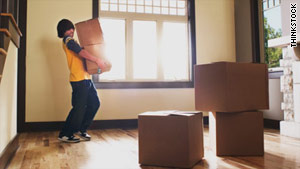 By Elizabeth Landau
CNN.com Health Writer/Producer
The stress of moving on children may carry negative effects on mental health and happiness in adulthood, a new study in the Journal of Personality and Social Psychology suggests.
People who had moved more as children were more likely to report lower life satisfaction and psychological well-being, regardless of age, gender and education level. These people also said they had fewer quality social relationships in adulthood than those who moved less in their youth.
Study participants came from a sample of more than 7,000 Americans adults who were contacted in 1994 and 1995. Nearly 5,000 of them completed additional surveys 10 years later that included questions about life satisfaction, personality, and how many times they moved to a "totally new neighborhood or town" as children.
Personality may play a big role in this, the authors wrote. Previous research has shown that high extraversion and low neuroticism are strongly associated with most aspects of well-being. The authors of the current study found that introverted participants who said they had moved frequently as children said they had lower levels of life satisfaction and psychological well-being than introverts who had not moved often. Introverts who had moved a lot as children also had a small increased likelihood of dying between survey periods.
When children move to different places, they are forced to leave their friendships behind and make new ones, which isn't always easy, the authors note. Introverted children may have a harder time joining a new social circle and developing close relationships than more outgoing kids, meaning the shy ones may have more of a negative experience adjusting.
One limitation of the study is that some adults may not remember how many times they moved to a new neighborhood as children, and these results come from self-reported data. Another is that some participants may not have known what constituted a "totally new neighborhood," or what ages are included in "childhood," when taking the survey.
Further research should be done on the subject before the findings should influence anyone's decisions about moving, the authors wrote.
Editor's Note: Medical news is a popular but sensitive subject rooted in science. We receive many comments on this blog each day; not all are posted. Our hope is that much will be learned from the sharing of useful information and personal experiences based on the medical and health topics of the blog. We encourage you to focus your comments on those medical and health topics and we appreciate your input. Thank you for your participation.