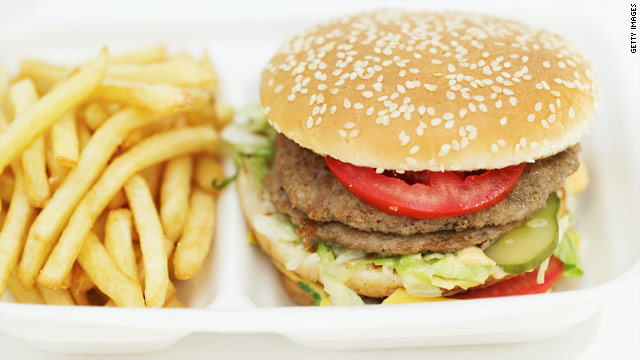 by Madison Park
CNNhealth.com writer/producer
Burgers may be cheap, quick and juicy, but America's favorite fast food could have more health implications than just clogged arteries or indigestion.
European researchers found "high burger consumption was associated with higher lifetime asthma prevalence" for children, according to findings published in the recent issue of the journal Thorax. High burger consumption consists of eating three or more a week.
Dr. Gabriele Nagel in the Institute of Epidemiology at Ulm University, Germany and his colleagues analyzed data collected on 50,000 children for 10 years in 20 rich and poor countries to explore how diet could affect asthma or food allergies.
Parents in the study were asked about their children's normal diet and whether they had ever been had asthma and/or have had wheeze.
Healthier foods like fruit, vegetables and fish, and the Mediterranean diet were associated with a lower lifetime prevalence of asthma.
Burgers,  not so much.
This could be because "fast food is rich in industrially hydrogenated vegetable fats such as margarine and meat from ruminant animals which are dietary sources of trans-fatty acids," researchers wrote.
Health advocates have blamed burgers and fast food  for childhood obesity rates. Group tells Ronald McDonald to take a hike.
Researchers say it might not just be the burgers.  "The frequency of burger consumption could be considered as a proxy for unknown lifestyle factors which may vary depending on the societal context, environmental and other lifestyle factors," they wrote.
Read the abstract here.
Editor's Note: Medical news is a popular but sensitive subject rooted in science. We receive many comments on this blog each day; not all are posted. Our hope is that much will be learned from the sharing of useful information and personal experiences based on the medical and health topics of the blog. We encourage you to focus your comments on those medical and health topics and we appreciate your input. Thank you for your participation.