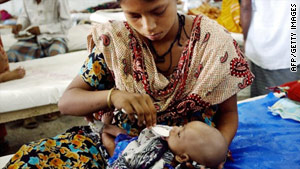 By Elizabeth Landau
CNN.com Health Writer/Producer
"Women Deliver" is the theme of this week's edition of the British journal "The Lancet." The issue explores a variety of topics concerning the health of women and children around the world.
One study finds that when a child's mother dies, he or she has dramatically lower chances of surviving beyond age 10 in Bangladesh. The death of a father, on the other hand, has a negligible effect. Researchers from the London School of Hygiene and Tropical Medicine looked at population surveillance data from 1982 to 2005 in Matlab, Bangladesh.
The interruption of breastfeeding when a mother dies may explain this pattern, the researchers wrote. Most infants in rural Bangladesh are still breastfed at 12 months of age. The short time between mother and child death may reflect a lack of adequate alternatives for these infants, the authors wrote. When a father dies, on the other hand, extended family form a safety net that may compensate for the loss, the study said.
Another study looks at a program called Janani Suraksha Yojana in India that seeks to promote births in health facilities. Eligible women receive the equivalent of about $13 in urban areas and $15 in rural areas if they have given birth in a government or accredited private health care facility. In some states the cash incentive is higher and applies to women regardless of socioeconomic background.
Researchers found that these cash payments were associated with a decrease in stillbirths and neonatal deaths. But there is plenty of room for improvement, the authors say, as the poorest and least educated women are not the most likely to take advantage of the program. This study was conducted by researchers at the University of Washington in Seattle and the Public Health Foundation of India in New Delhi.
The edition also includes a comment by editor Dr. Richard Horton about the 10 reasons why women and children remain "invisible" in his view. Attitudes can be unintentionally discriminatory because of a lack of awareness of the predicaments facing women and children, he wrote.