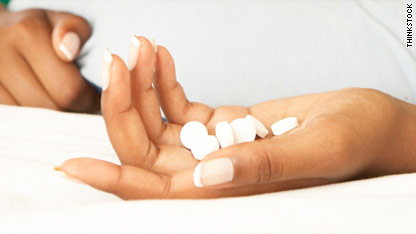 By Elizabeth Landau
CNN.com Health Writer/Producer
One in five U.S. high school students say they have ever taken a prescription drug such as OxyContin, Percocet, Vicodin, Adderall, Ritalin, or Xanax, without a physician's prescription, a new survey from the Centers for Disease Control and Prevention has found.
Twelfth-graders had the highest likelihood of prescription drug abuse, at 26 percent, and ninth-graders had the lowest, at 15 percent. There was also variation by race; white students most commonly reported abusing prescription drugs, at 23 percent, followed by Hispanic students at 17 percent and black students at 12 percent.
The survey, officially called the 2009 National Youth Risk Behavior Survey, had never looked at prescription drug abuse among high school students before. It also examined other risk and nutrition-related behaviors.
The survey found that, among high school students, 72 percent had ever used alcohol. Marijuana use was reported among 37 percent of students. Data showed that 6.4 percent of students had ever used cocaine, 4.1 percent had ever used methamphetamine, and 6.7 percent had ever used ecstasy.
In terms of trends, fewer students reported drinking at least one soda per day than in 2007, and more said they ate fruit or drank 100 percent fruit juice two or more times a day. Fewer high school students said they engaged in unhealthy weight-loss behaviors such as not eating for 24 hours or more, taking diet pills or laxatives, and vomiting.
Learn more about the survey here.
Editor's Note: Medical news is a popular but sensitive subject rooted in science. We receive many comments on this blog each day; not all are posted. Our hope is that much will be learned from the sharing of useful information and personal experiences based on the medical and health topics of the blog. We encourage you to focus your comments on those medical and health topics and we appreciate your input. Thank you for your participation.