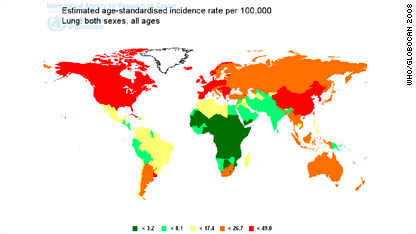 By Elizabeth Landau
CNN.com Health Writer/Producer
By 2030, there will be more than 13 million deaths from cancer around the world and nearly 21 million diagnosed cases annually, according to a new report from the World Health Organization.
About 12.7 million new cancer cases and 7.6 million cancer deaths occurred in 2008, says GLOBOCAN 2008, the World Health Organization's new online resource for cancer globally. The map above, from the Web site, shows the incidence of lung cancer worldwide, with green indicating low levels and red showing high levels.
Less developed regions of the world have higher cancer incidence and mortality, the WHO said. Lung cancer is the most commonly diagnosed type of cancer, with 1.61 million cases in 2008. Breast cancer, with 1.38 million cases, and colorectal cancers, with 1.23 million cases, are the second and third most common.
Lung cancer is also the most common cause of cancer death, with 1.38 million reported. Stomach cancer, with 0.74 million, and liver cancers with 0.69 million, follow.
WHO noted that cancer is not exclusive to high-resource countries, and it is not rare anywhere in the world. But there are regional patterns - in developing regions, cervix and liver cancers are more common; developed regions have a higher burden of prostate and colorectal cancers.
You can view more maps of various kinds of cancer worldwide here.
Editor's Note: Medical news is a popular but sensitive subject rooted in science. We receive many comments on this blog each day; not all are posted. Our hope is that much will be learned from the sharing of useful information and personal experiences based on the medical and health topics of the blog. We encourage you to focus your comments on those medical and health topics and we appreciate your input. Thank you for your participation.