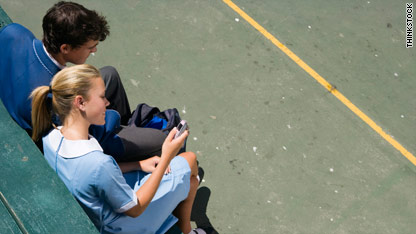 By Saundra Young
CNN Medical Senior Producer
The number of teenagers having sex hasn't changed much over the last eight years, according to a new report looking at sexual behavior in adolescents ages 15-19. The report, from the National Survey of Family Growth (NFSG), was released Wednesday by the Centers for Disease Control and Prevention's National Center for Health Statistics. It looked at trends in sexual activity, contraceptive use and attitudes towards pregnancy in unmarried teenagers, and found there have been not significant changes since the last NFSG report in 2002.
Based on data from a two year period between 2006 and 2008, it found more than 42 percent - or 4.3 million - teenage girls have had sex at least once. That number was 43 percent - or 4.5 million - for teenage boys. Nearly 30 percent of boys and girls surveyed have had 2 or more partners. Teenage girls who were younger when they had their first sexual encounter were more likely to have more partners. And teens whose mothers had their first child as a teenager and, at 14, did not have both parents in the home were more likely to be sexually active.
Joyce Abma, Ph.D., a Demographer at the National Center for Health Statistics and coauthor of the study, says the message is mixed. "It's a bit concerning that the data suggest a loss of momentum compared to the study improvements of the 90s. But there are still some positive signs and things going in the right direction so it seems as though efforts still need to be focused on motivating teens to prevent pregnancy and that's especially true since the US teen birth rate is so much higher than in comparable countries."
According to Abma, the country with the next highest teen birth rate is the United Kingdom–and our rate is 1 1/2 times higher, and the gap keeps growing after that. In Canada the teen birth rate is 13 per 1,000. Here, it's 43 per 1,000."
The encouraging news is that nearly 80 percent of teenage girls and 90 percent of teen boys used some sort of contraceptive during their first sexual encounter. Condoms remain the most commonly used form of birth control. Ninety-five percent of sexually experienced girls used them at least once. Withdrawal was next, followed by the pill.
Usually, first partners were someone the teen was going steady with. Next, was someone they just met, although these encounters were more apt to occur with boys than girls. For teenagers abstaining altogether, the most common reason for doing so was that it was against their moral or religious beliefs. Pregnancy was second. Interestingly enough, pregnancy was not always a deterrent. In fact, parents might be startled to learn nearly a quarter of boys and girls who have had sex said they would be "pleased" if they got pregnant or got a partner pregnant. And a majority of teens – 64 percent of males and 71 percent of females - felt it was ok to have a child out of wedlock.
"I was a bit surprised with the level of agreement that unmarried childbearing is acceptable and the fact that it increased among males. That in combination with attitude results seem to suggest that males are less concerned about causing a pregnancy compared to the 2002 survey." Abma said.
Unfortunately, the survey found teenage girls in the 15-19 age group still have higher Chlamydia and gonorrhea rates than any other age group and teen boys. Almost half of all new sexually transmitted diseases are in teens and young adults ages 15 to 24 years old.
The study was based on in-person interviews of nearly 3,000 teenagers. The report can be found on-line at http://www.cdc.gov/nchs. Data from a new survey currently underway will be available next year and will add to current findings and will be broken down by race and Hispanic origin.
Editor's Note: Medical news is a popular but sensitive subject rooted in science. We receive many comments on this blog each day; not all are posted. Our hope is that much will be learned from the sharing of useful information and personal experiences based on the medical and health topics of the blog. We encourage you to focus your comments on those medical and health topics and we appreciate your input. Thank you for your participation.