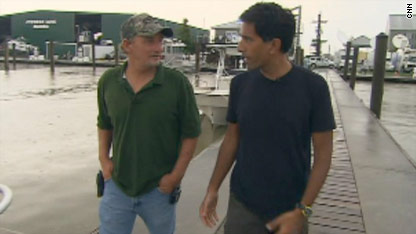 By Dr. Sanjay Gupta
Chief Medical Correspondent
Like many people living in south Louisiana, Acy Cooper is a third generation shrimper. When I shook his hand, you could feel the calluses from years spent out on the boat, and his 49-year-old face was weathered, just as you might expect in a man who spends most of his waking hours in the middle of the ocean. Shrimping is the only life he has ever known. He even made a crack about the movie character in "Forest Gump," who rattles off all the different ways to prepare shrimp – "shrimp is the fruit of the sea, you can barbeque it, boil it, broil it, bake it, …"
Our conversation quickly turned serious, though. After spending days deliberating, Acy finally decided to speak out. Up until now, no fisherman working for BP has sat down for an interview with CNN. Acy says he wants to tell people about what is happening 50 miles out at sea, where oil has turned the water black. He wants to tell the stories of his workers, several hundred of them, who were fisherman, but now, temporarily work for BP. He wanted me to know that people are getting sick, and very little is being done to protect them.
When Acy took the job from BP, the company asked him to sign a form, which he says essentially amounted to a gag order. Sure Acy wants the job – after all, it is the only job he can get nowadays and he has bills to pay. So, when he started describing the workers lying on the edges of boats flat on their stomachs, their unprotected faces just inches away from the crude oil/dispersant mixture, he was nervous. He did it because he couldn't stand the idea of them getting sick. He told me, "I couldn't live with that."
Fact is, it has already started. One of his good friends has a confirmed case of chemical poisoning, and has been in the hospital for several days. Dozens other have become sick. "Nausea, vomiting, headaches, diarrhea," he told me. "It's from breathing in the fumes," he added. "Does it get better if you get away from the fumes and simply get fresh air?" I asked him. He smiled, looked down, and replied "sometimes."
Riki Ott Ph.D., author of "Sound Truth and Corporate Myth," says Acy's right. I met with her earlier in the day. She has 21 years worth of data now from the Valdez disaster and told me about hundreds of cleanup workers who developed those same symptoms, and still had them more than a decade later. Most do get better, with symptoms lasting less than a week, but according to a study conducted at Yale, Valdez cleanup workers who had the most exposure to oil and chemicals reported conditions such as chronic airway disease and neurological impairment over a decade later. If you get a chance take a look at this information from the OSHA website. Keep in mind that many workers, including Acy, sometimes spend days in the water, as part of the cleanup efforts.
While stopping the oil leak has proven very difficult - protecting the cleanup workers is simpler. Providing respirator masks and adequate protective gear could go a long way toward preventing the illness in the short term, and the future. Riki got mad when telling me this. "BP doesn't want to provide protective gear, because that means they are acknowledging the health risks, and will be forced to pay for people who get sick," she yelled. "It all comes back to the money," she continued.
It was raining today, when Acy and I sat and talked. I caught him looking at the ocean several times, and it's clear that he is one of those guys more comfortable in the water than on the land. Right now, he wants to do everything he can to protect both – the water and the land he has known his entire life. It's just that he would rather do it with some assurance of safety, protections against those toxic fumes, and the hope of a long disease free life. That is why Acy Cooper has broken his silence.
It seems like the least he could ask for.
Editor's Note: Medical news is a popular but sensitive subject rooted in science. We receive many comments on this blog each day; not all are posted. Our hope is that much will be learned from the sharing of useful information and personal experiences based on the medical and health topics of the blog. We encourage you to focus your comments on those medical and health topics and we appreciate your input. Thank you for your participation.