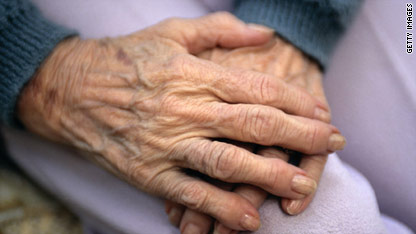 By Madison Park
CNNhealth.com writer/producer
In a nation where people die from complications of too much food, some die from having too little.  Although malnutrition is often thought of as a killer in the developing world, it's also a problem for the elderly in the United States, according to research published in the May issue of the Annals of Epidemiology.
Researchers from Louisiana State University examined data from 3,141 counties  and older adult malnutrition mortality using Centers for Disease Control and Prevention data.  Between 2,000 and 3,000 older adults die from malnutrition each year, according to CDC data from 2006.
Malnutrition is more prevalent among older adults, especially over the age of 70. They may eat too little, lack nutrition or have digestion problems related to aging. This can stem from certain medications, trouble chewing due to dental issues, problems swallowing or difficulty absorbing nutrients, according to the Mayo Clinic.
MayoClinic.org: Senior health: How to detect and prevent malnutrition
The rates of malnutrition mortality among older adults vary widely across communities.  The communities with higher levels of socioeconomic disadvantage, social isolation and disability are more likely to have higher rates of malnutrition-related deaths, wrote the author, Matthew Lee, a sociology professor at Louisiana State University.
"Communities where adults are living alone and are widowed have higher rates of dying from malnutrition," he said. "When people are embedded in strong social networks, they fare better."
Lee stumbled across statistics about malnutrition deaths in CDC reports.
"I never heard much about elderly mortality related to malnutrition," he said, because "it's not an extremely common event."  The issue may attract little attention because of its demographic, he said.  "People get old, they're expected to pass on and people don't think much about the causes of it at that point."
Editor's Note: Medical news is a popular but sensitive subject rooted in science. We receive many comments on this blog each day; not all are posted. Our hope is that much will be learned from the sharing of useful information and personal experiences based on the medical and health topics of the blog. We encourage you to focus your comments on those medical and health topics and we appreciate your input. Thank you for your participation.