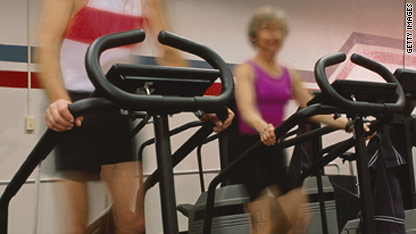 By Madison Park
CNNhealth.com writer/producer
Cancer patients should be physically active during and after treatment, according to new national guidelines from the American Society of Clinical Oncology.
Instead of avoiding exercise, Kathryn Schmitz, an associate professor of epidemiology and biostatistics at the Abramson Cancer Center at the University of Pennsylvania School of Medicine, encouraged about 150 minutes of physical activity each week  for cancer patients.  Activities such as swimming, yoga, strength training can help.
For cancer survivors, yoga may boost energy and aid sleep
Schmitz is scheduled to present exercise guidelines at the 2010 meeting of the group  this week.
Cancer patients often see massive changes in their bodies during treatment. Some suffer loss of appetite and difficulty eating, and shed lots of weight. For these patients, exercise could help maintain lean body mass. Other patients gain weight. Exercise can help control their weight and possibly decrease risks of the cancer returning.
Patients should consult their doctors to get tailored recommendations - for instance, some cancer patients with weakened immune systems should stay away from public gyms, the expert panel advises.
Here's more from the UPenn's release.
Editor's Note: Medical news is a popular but sensitive subject rooted in science. We receive many comments on this blog each day; not all are posted. Our hope is that much will be learned from the sharing of useful information and personal experiences based on the medical and health topics of the blog. We encourage you to focus your comments on those medical and health topics and we appreciate your input. Thank you for your participation.