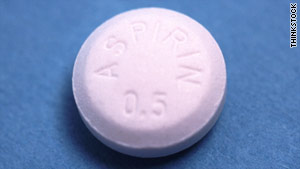 By Ann J. Curley
CNN Medical Assignment Manager
Diabetic men younger than 50 and diabetic women younger than 60 who have no other risk factors should probably not use low-dose aspirin as a heart attack preventative, according to new guidance from medical experts.
A panel endorsed by the American Diabetes Association, the American Heart Association and the American College of Cardiology Foundation published the  revised recommendations  in the journal Diabetes Care.
Diabetics are at two to four times increased risk for heart problems compared with people without diabetes. Many doctors advise their diabetic patients to take daily low-dose aspirin to fight the risk for heart problems. But the revised recommendations urge more conservative use of low-dose aspirin, especially for younger diabetics. The U.S. Preventive Services Task Force is still recommending aspirin use for older adults who are not diabetics – ages 45-79 for men, 55-79 for women – and who have other risk factors.
The panel based its revised guidelines upon an analysis of nine studies. The experts found the risks of aspirin-related side effects, such as stomach bleeding, and the much lower chance of bleeding strokes, must be carefully weighed against the potential benefits of using aspirin.
"If you have diabetes, aspirin may not be as effective as we otherwise felt. And it can have some potential risks," explained Craig Williams, an associate professor in the College of Pharmacy at Oregon State University, and one of the experts on the recent review panel.
"The larger theme here is that use of low-dose aspirin to prevent heart attacks in people who have not already experienced one is probably not as efficacious as we used to believe it was,"Williams said.
So who SHOULD be taking aspirin? It's important that patients make their decision based on their personal risk factors for heart disease. Patients who are overweight, have high blood pressure, diabetes or other heart disease risk factors, should discuss with their health care provider whether they should be incorporating low-dose aspirin into their routine.
Editor's Note: Medical news is a popular but sensitive subject rooted in science. We receive many comments on this blog each day; not all are posted. Our hope is that much will be learned from the sharing of useful information and personal experiences based on the medical and health topics of the blog. We encourage you to focus your comments on those medical and health topics and we appreciate your input. Thank you for your participation.